What can music tell us about cities ? Can musi­cal city por­traits be a star­ting point to reflect on ways in which music repre­sents cities and contri­butes to the crea­tion of sha­red memo­ries asso­cia­ting places and music ? This article is an invi­ta­tion to explore dif­ferent examples of musi­cal city portraits.
Unlike lite­ra­ry and visual repre­sen­ta­tions of the city, music por­trayals might appear more indi­rect, frag­men­ta­ry, open-ended, espe­cial­ly with regards to non-vocal music or music with lyrics in forei­gn lan­guages. Never­the­less, they still offer a unique pers­pec­tive to dive into the musi­cal psy­cho­geo­gra­phy of dif­ferent cities and explore the rich tra­di­tion that merges music with other cultu­ral spheres. Music allows us to have a glimpse at the soul of cities and dis­co­ver facets that often remain invi­sible and unk­nown to forei­gners due to lan­guage bar­riers or lack of suf­fi­cient know­ledge about the local cultu­ral context.
Music has often connec­tions to cities and spe­ci­fic loca­tions, but to per­ceive and appre­ciate refe­rences that, for example, songs of Okudz­ha­va make to Arbat street in Mos­cow or Cha­va Flores, the unof­fi­cial urban folk­lo­rist of Mexi­co City, makes to La Mer­ced neigh­bou­rhood, or the poe­try of Rober­to Muro­los' Nea­po­li­tan songs in local dia­lect, one would need to be fami­liar both with Rus­sian, Spa­nish and Nea­po­li­tan lan­guages and the city places they chro­ni­cled in their songs. For­tu­na­te­ly, music doesn't require us to know this in order to enjoy it. But when we do make the connec­tions, it sti­mu­lates our curio­si­ty and offers a pri­vi­le­ged access to the sense of place embed­ded in urban his­to­ry, lan­guage and culture. Name­ly, to how locals have construed and still share living memo­ries that asso­ciate songs, times and places. As Proust obser­ved, the real voyage of dis­co­ve­ry consists not in see­king new land­scapes, but in having new eyes, or in this case in wide­ning the pers­pec­tive of our "hea­ring vision".
Булат Окуджава – Песенка об Арбате
Bulat Okudz­ha­va – Song of the Arbat street
Some places such as the canals of Amster­dam are so visual­ly ico­nic that we for­get that they also have an invi­sible his­to­ry. The spe­cial place they hold in the hearts of Amster­da­mers was musi­cal­ly cap­tu­red by Pie­ter Goe­mans in an ode to the canals that has become one of the unof­fi­cial city anthems.
The song tells of child­hood memo­ries, the lon­ging to return to the city after long tra­vels, the changes brought about by the pas­sing of time, but above all it sings the eter­nal Amster­dam with a love decla­ra­tion to the city. It's per­for­mance at the end of the tra­di­tio­nal Open air Prin­sen­gracht Concert in the canals with an audience wat­ching and lis­te­ning from boats, is one of the musi­cal city-high­lights eve­ry year. The bridge in the song was memo­ria­li­zed with a plaque and later named after him while his ashes were spread over the Prin­sen­gracht canal.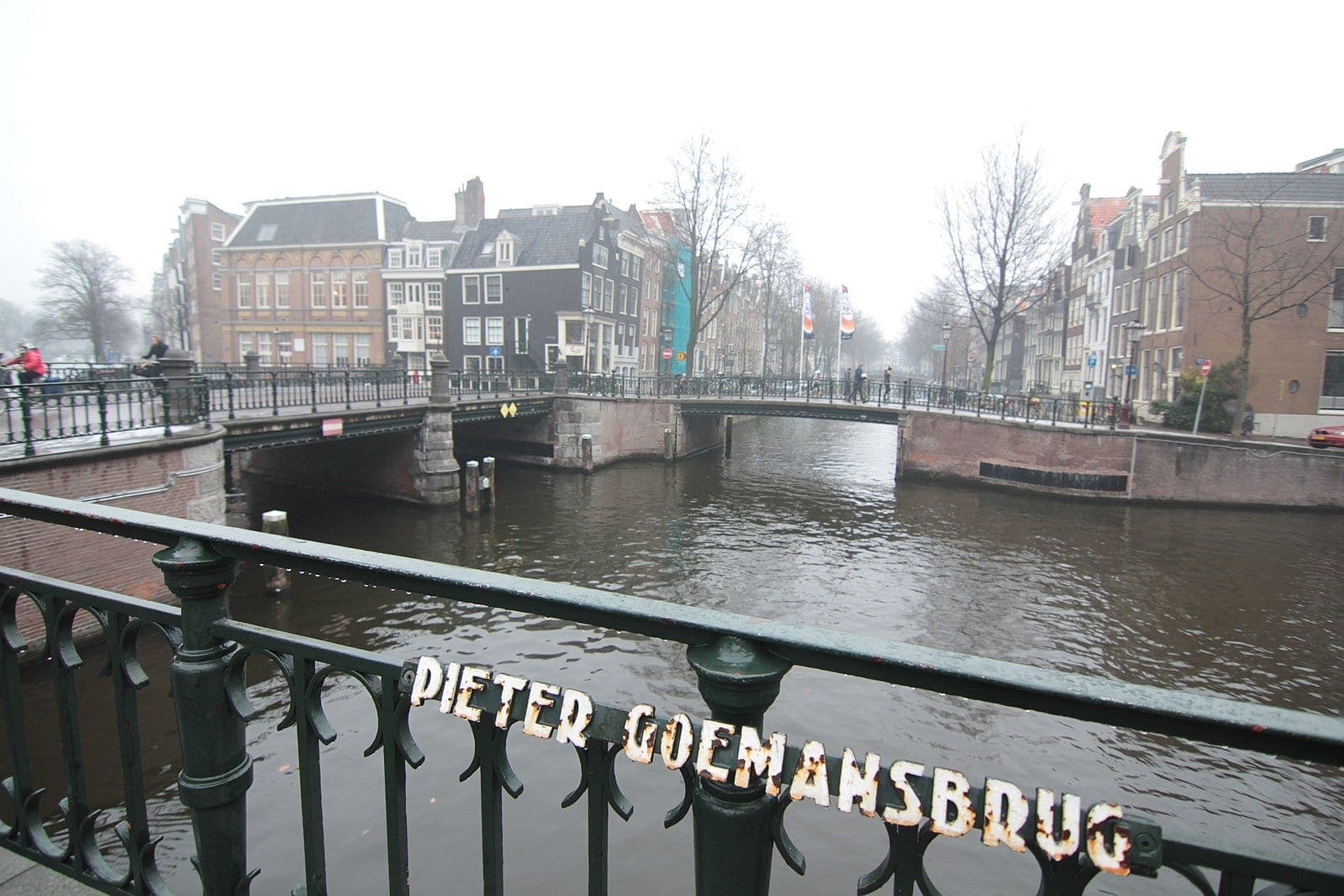 Wim Son­ne­veld – P. Goe­mans – Aan de Amster­damse Grach­ten | Prin­sen­gracht­con­cert 2013
Cities such as New York have, unsur­pri­sin­gly, been source of ins­pi­ra­tion for thou­sands of songs which have tra­vel­led across the world. The cen­tra­li­ty of New York in music is not only due to its cultu­ral vita­li­ty and capa­ci­ty to attract gene­ra­tion after gene­ra­tion of musi­cians but also because of the city's key role in the his­to­ry of the music indus­try. After all, New York was where the pho­no­graph was inven­ted and where mythic places such as Tin Pan Alley, Broad­way, Har­lem among many others gave birth to modern Ame­ri­can music.
It would be almost impos­sible to list the songs connec­ted to New York, when alone a place like Cen­tral park has ins­pi­red artists as diverse as John Col­trane, Nina Simone and Chick Corea. Other city songs don't praise ico­nic places and his­to­ric land­marks but rather its people and the unique city life expe­rience. The music and lyrics of On the side­walks of New York both sing and represent a nos­tal­gia of the old New York. It has been per­for­med and adap­ted by nume­rous artists and is also consi­de­red by many as the unof­fi­cial anthem of the city.
Nat King Cole – On The Side­walks Of New York
Music doesn't use exclu­si­ve­ly the city itself as a source of ins­pi­ra­tion, it also takes and ampli­fies other urban ima­gi­na­ries from lite­ra­ture, visual arts, cine­ma, etc., as a topic of music repre­sen­ta­tion of city life. In the docu­men­ta­ry Hel­sin­ki Fore­ver, Peter von Bagh crea­ted a city sym­pho­ny that poi­gnant­ly brings to life a cen­tu­ry of archi­val foo­tage in coun­ter­point to pain­tings, movie sequences and a beau­ti­ful and diverse sound­track of the city that invites the forei­gner to dis­co­ver decades of Fin­nish clas­sics that are lit­tle known out­side the coun­try. These include a wide range of genres such as Fin­nish jazz, pop, punk rock, clas­sic and film music with excerpts from Ture Ara, George de God­zins­ky, Einar Englund and the Har­mo­ny Sis­ters. It also includes songs from Ola­vi Vir­ta, the king of Fin­nish Tan­go, a unique cultu­ral phe­no­me­non unto itself, that illus­trates how forei­gn musi­cal influences are trans­for­med and inte­gra­ted into a local music tra­di­tion that grew to become one of the most popu­lar music forms in Finland.
Ola­vi Vir­ta – Unfor­get­table Home (Tan­go Frostbite)
A unique and ambi­tious pro­ject that brings music into dia­logue with the city and its repre­sen­ta­tions from mul­tiple angles are Jor­di Savall's recor­dings of Istan­bul, Jeru­sa­lem, Gra­na­da and Venice. Ini­tial­ly known for his his­to­ri­cal per­for­mances with ori­gi­nal ins­tru­ments of ear­ly wes­tern music, these grand his­to­ri­cal pro­jects consti­tute a rich col­lec­tion of musi­cal fres­coes. They are not only aes­the­ti­cal­ly and musi­cal­ly fas­ci­na­ting but their mul­ti­lin­gual docu­men­ta­tion, par­ti­ci­pa­tion of musi­cians from Israel, Europe and the Arab world, recreate his­to­ric atmos­pheres and offer a unique mul­ti-laye­red city-music experience.
These cities have a com­plex reli­gious, eth­nic, lin­guis­tic his­to­ry and the nar­ra­tives cho­sen along with time­lines illus­trate the cultu­ral cros­sings bet­ween the west and the orient. These are punc­tua­ted by text rea­dings, dances, cere­mo­nial and reli­gious music, evo­king such his­to­ri­cal moments as the birth of Venice, the 4th Cru­sade, the Fall of Constan­ti­nople, the Bat­tle of Lepan­to, and of Jeru­sa­lem as a Jewish, Chris­tian, Arab and Otto­man city. In Istan­bul, the music from Dimi­trie Can­te­mir, a Mol­da­vian 18th cen­tu­ry poly­math whose life and music repre­sents a stri­king example of East-West connec­tions and cultu­ral cros­sings. Each of these recor­dings focus on a city but toge­ther they com­plete one ano­ther in their por­trayal of mil­len­nial Medi­ter­ra­nean cities and cultures, show­ca­sing a true inter­cul­tu­ral dia­logue, brid­ging dif­fe­rences and wars, where a com­mon huma­ni­ty across cen­tu­ries and cultures is brought to life in music.
ISTANBUL
Der makām – ı Hüseynī Sakīl – i Ağa Rıżā (Mss. D. Can­te­mir 89) · Jor­di Savall
GRANADA
Invo­ca­ción Qam­ti be – Ishon Lay­la · Jor­di Savall
Vil­lan­ci­co : Aquel­la mora gar­ri­da – Gabriel, Can­cio­ne­ro de Pala­cio (CMP 254)
The music heri­tage of a city does not only allow us to tra­vel the world musi­cal­ly, but also can help us connect and relate to the city and its his­to­ry in new and mea­ning­ful ways. It's an invi­ta­tion to redis­co­ver places through music but also new music through places we thought we knew. Music is a power­ful reci­pient of his­to­ries and memo­ries. The reso­nances and inter­play bet­ween music and other city repre­sen­ta­tions can enrich our expe­rience of music, cities and ourselves.
In the "The Poets' Soul", a song about songs, Charles Tre­net reveals us a musi­cal secret : The poe­try and the memo­ry of a city can remain alive through music as long as we conti­nue to sing it, even after their authors are forgotten.
Long, long, long
After the poets have disappeared
Their songs flow still through the streets.
The crowd sings them, a lit­tle distracted,
Una­ware of the author's name,
Not kno­wing for whom his heart beat.
Some­times one changes a word, a phrase,
And when one has run out of ideas
One goes "La la la, la la lay."
At the end, the evo­ca­tive power of music is such that even what seems to be for­got­ten, remains often present in music, wai­ting to be resur­rec­ted by us.
By the same author :
« Nar­co­cor­ri­dos : A musi­cal tra­di­tion per­ver­ted by violence ? »
« Modern urban trou­ba­dours : Beg­gars or buskers ? »