A pano­ra­mic pers­pec­tive of urban music trou­ba­dours, the role they play in public spaces and some les­sons we can learn from them.
In 2007, an expe­riment took place inside a metro sta­tion in Washing­ton D.C where, Joshua Bell, a world-renow­ned vio­li­nist, per­for­med inco­gni­to for almost 1 hr. Over a thou­sand per­sons pas­sed by but only a few stop­ped to lis­ten and one reco­gni­zed him. He made 32 dollars.
What does this per­for­mance tell us about the way that we as audiences relate to music in public spaces and our abi­li­ty to per­ceive beau­ty in the mid­st of urban chaos ? If Joshua Bell can be igno­red, does an unk­nown street per­for­mer stand a chance to be real­ly noti­ced ? The ano­ny­mi­ty of the modern metro­po­lis cou­pled with the ubi­qui­ty of muzak and the increa­sing noise pol­lu­tion in our cities is such that some people might even won­der whe­ther street musi­cians contri­bute more to the caco­pho­ny of the city than any­thing else.
Howe­ver, if we lis­ten care­ful­ly, per­haps street musi­cians can teach us a few les­sons. As modern urban trou­ba­dours, they bring sur­pri­sing musi­cal encoun­ters into the dai­ly life of com­mu­ters and ordi­na­ry citi­zens to create musi­cal moments in unex­pec­ted places.
Through the tem­po­ra­ry appro­pria­tion of public spaces, they bring life to our streets and contri­bute to shape the iden­ti­ties of neigh­bou­rhoods. Many urban public spaces are as renow­ned for their spa­tial qua­li­ties as for their cultu­ral and musi­cal atmos­phere. Graf­ton Street in Dublin, Washing­ton Square in New York, Royal Street in New Orleans and many more, are in fact open air cultu­ral forums. Jazz, Chi­ca­go Blues, Hip Hop, Klez­mer and Gyp­sy music, to name but a few examples, are played now all over the globe but they were born in the streets and are the living pro­duct of inter­cul­tu­ral exchange among dif­ferent communities.
Pla­za Gari­bal­di, the Mec­ca of Maria­chi music in Mexi­co City.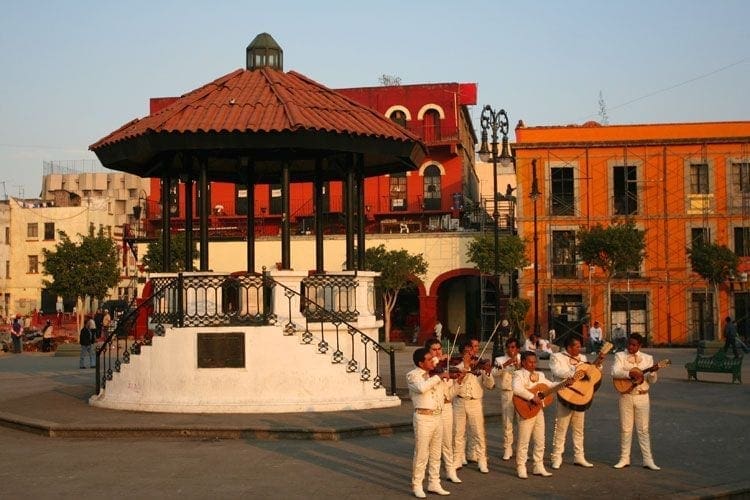 Our streets consti­tute unique cross­roads of musi­cal paths. For some musi­cians, such as Valen­ti­na Morales, a clas­si­cal cel­lo player who per­forms in down­town Mexi­co City, street per­for­mances represent not only the oppor­tu­ni­ty to bring her craft to lar­ger audiences who wouldn't other­wise have the means to expe­rience a clas­si­cal music concert. Her per­for­mances attempt to raise a conver­sa­tion about clas­si­cal music's acces­si­bi­li­ty towards dif­ferent class back­grounds and the sta­tus of musi­cians, and also the chance to advo­cate for regu­la­tion and recog­ni­tion of street musicians.
For others, music bus­king repre­sents a first step in their music career. Rodri­go y Gabrie­la, a cele­bra­ted Mexi­can gui­tar duo, left their home coun­try after years of limi­ted suc­cess and star­ted from scratch, per­for­ming in the streets of Dublin in the late 90s before rea­ching glo­bal star­dom. Their sto­ry is incre­dible, but not the only one. In fact, the list of famous musi­cians who star­ted as street per­for­mers is long and includes the likes of Edith Piaf, Janis Joplin, Rod Ste­wart, Tra­cy Chap­man and more recent­ly Ed Shee­ran, who used to per­form in the Lon­don tube. Some­times even the oppo­site and most unex­pec­ted hap­pens : music cele­bri­ties go to the street and deli­ver sur­prise per­for­mances to unsus­pec­ting audiences.
Sur­pri­sing audiences is also a key aspect of Music flash mobs. They consti­tute a recent and dif­ferent type of street per­for­mance that has become increa­sin­gly popu­lar since the ear­ly 2000's, although they are often orga­ni­zed around poli­ti­cal, acti­vist or mar­ke­ting pur­poses and wide­ly pro­mo­ted on social media to maxi­mize impact and notoriety.
Inter­na­tio­nal Busking
Since 2011, Inter­na­tio­nal Bus­king day as a hash­tag cam­pai­gn is orga­ni­zed to help raise the pro­file of street per­for­mance and cele­brate talent. It is also increa­sin­gly visible via inter­net bus­ker com­mu­ni­ty plat­forms and as an inter­na­tio­nal phe­no­me­non with seve­ral fes­ti­vals such as Linz and Fer­ra­ra in Europe, that have exis­ted for over 30 years. These fes­ti­vals strive to main­tain the spi­rit of bus­king, under­li­ning the inter­ac­tion of musi­cian and audience and offe­ring oppor­tu­ni­ties for new talents.
We should not for­get, that what tru­ly cha­rac­te­rizes street per­for­mance, is the unique set­ting, the spon­ta­nei­ty and inter­ac­tion bet­ween per­for­mer and audience. Unlike in conven­tio­nal concerts, the audience is free to stay or leave at any moment, to show their appre­cia­tion as they like or to pass along. When a musi­cian cap­tures the atten­tion of pas­sers-by and convinces them to inter­rupt their jour­ney and remain even for a few minutes, he/she is crea­ting a spe­cial moment out of nothing. Lit­tle by lit­tle, almost orga­ni­cal­ly a crowd gathers and some­times a real sense of toge­ther­ness is achie­ved among com­plete stran­gers. That's both, the beau­ty and the sim­pli­ci­ty of it. And when people pay for it, they make it pos­sible for the music to conti­nue for future audiences. Bus­kers aren't beggars.
There is no sub­sti­tute for tra­ve­ling the world and explo­ring the music on its streets but for­tu­na­te­ly street musi­cians are brin­ging world music clo­ser to us. There are seve­ral inter­es­ting ini­tia­tives that allow us to tra­vel vir­tual­ly such as world​street​mu​sic​.com and Playing for change, a move­ment devo­ted to ins­pire and connect the world through music which set out to record street musi­cians in dif­ferent coun­tries and resul­ted in the award-win­ning docu­men­ta­ry A Cine­ma­tic Dis­co­ve­ry of Street Music.
Per­haps the recent per­for­mances from bal­co­nies and roofs in seve­ral cities across the world during the COVID-19 cri­sis are a remin­der of the need to express our­selves through music and of the impor­tance of live music connec­ting people des­pite iso­la­tion and confi­ne­ment. By brin­ging culture and life to the streets, they are de fac­to grass root actors of world music and an inte­gral part of the music eco-sys­tem of cities. Cultu­ral pol­li­na­tors, they often tra­vel the world and not only bring their music with them but also embo­dy a phi­lo­so­phy of exchange, free­dom and diversity.
Street music is part of an ongoing sto­ry and quite like­ly it's in the streets of today where the urban music of tomor­row is being created.
By the same author : « Nar­co­cor­ri­dos : A musi­cal tra­di­tion per­ver­ted by violence ? »
« Por­traying the city through music »