On 18 Octo­ber 2019, the social revo­lu­tion explo­ded onto Chile's streets. Inequa­li­ty, a high cost of living, tui­tion fees, pen­sions, the mana­ge­ment of resources… Demands across the board cal­led into ques­tion the neo­li­be­ral model and the consti­tu­tion inhe­ri­ted from the Pino­chet dic­ta­tor­ship (1973–1990). On 25 Octo­ber 2020, Chi­leans will vote on changes to this consti­tu­tion in a refe­ren­dum. The poli­ti­cal bat­tle has been laun­ched, in a context in which Coro­na­vi­rus has slo­wed mobi­li­sa­tion and exa­cer­ba­ted social inequalities.
A few weeks before the deci­sive vote, what role has music played in this move­ment that has sei­zed upon the arts to bring about its revolution ?
The expres­sion of a "col­lec­tive musi­cal memory"
The social move­ment has connec­ted gene­ra­tions of artists, from the 1960s to the present day, crea­ting a "col­lec­tive musi­cal memo­ry", accor­ding to David Ponce, a Chi­lean jour­na­list spe­cia­li­sing in popu­lar music. All genres are present, from punk to cum­bia, via cue­ca, rock and pop.
The demons­tra­tors have revi­ved great anthems such as "El dere­cho de vivir en paz" (1971) by Víc­tor Jara, a mar­tyr under the dic­ta­tor­ship, picked up on by a col­lec­tive of gui­ta­rists during the demons­tra­tion that brought toge­ther more than a mil­lion people in San­tia­go on 25 Octo­ber 2019.
Mil gui­tar­ras para Víc­tor Jara convo­co a can­tar en Biblio­te­ca Nacional!!

Geplaatst door Pato Zura op Zater­dag 26 okto­ber 2019
Simi­lar­ly, the line "the uni­ted people will never be defea­ted" has been chan­ted spon­ta­neous­ly here and there. "El pue­blo uni­do jamás será ven­ci­do" (1970, Qui­la­payún, Inti-Illi­ma­ni) retains all its power of action, as evi­den­ced by this memo­rable per­for­mance by Inti-Illi­ma­ni and the masses gathe­red on 13 Decem­ber in the capital.
Groups oppo­sed to the dic­ta­tor­ship also ins­pi­red the gathe­ring, such as Los Pri­sio­ne­ros, with the Chi­lean rock stan­dard "El baile de los que sobran" (1986) or Sol y Llu­via, with a live update to the ico­nic "Adiós Gene­ral" writ­ten in 1990 when the dic­ta­tor­ship was at an end. The crowd took up the cho­rus "Adiós Car­na­val / Adiós Gene­ral", but this time to say good­bye to "Sebas­tián", the cur­rent president.
The sound­track is also rich in contem­po­ra­ry titles, which, with their cri­ti­cal tone, hel­ped to anti­ci­pate the cri­sis, like "Mil­lones" (2009) by Cami­la More­no, a com­mit­ted Nue­va tro­va femi­nist. She lashed out at the power held by big com­pa­nies with a cry of "They want (…) mil­lions of souls in their huge account". Ana Tijoux, the lea­ding light of poli­ti­cal rap, com­po­sed "Shock" in sup­port of the 2011 student move­ment with these words against neo­li­be­ra­lism : "We won't allow your doc­trine of shock any­more!" In 2012, the rap­per Por­ta­voz told the eve­ry­day sto­ry of "ano­ther Chile" struck by pover­ty and inequa­li­ty in his "El otro Chile".
Musi­cal crea­tion rises up
The social explo­sion has ins­pi­red count­less crea­tions that show­case the strength of the popu­lar move­ment and speak out against the violent repres­sion of law enfor­ce­ment agencies.
"Social explo­sions are always a form of ins­pi­ra­tion (…) When you see a people rising up to demand jus­tice, there's nothing more beau­ti­ful and ins­pi­ring for those of us who are crea­tive", says Ana Tijoux. The rap­per says her role in the move­ment is to be "sen­si­tive to what's going on (…) fol­lo­wing the rhythm by kee­ping my eyes open and per­haps being mind­ful of the tones of the social tem­pe­ra­ture". A com­mit­ment illus­tra­ted by her explo­sive "Cace­ro­la­zo", which pays tri­bute to the noise made by people ban­ging pots and pans in pro­test and pro­vides a glimpse of the vio­lence in words and images.
In Novem­ber, the indie-pop musi­cian Álex Anwand­ter relea­sed the eloquent "Paco Vam­pi­ro" ("vam­pire cop") with the sca­thing lyrics "Vam­pire cop, you're thirs­ty for blood", while Nano Stern pays an inti­mate tri­bute to 22-year-old Gus­ta­vo Gati­ca, who lost his eye­sight after being inju­red by police during a demons­tra­tion. He echoes Gustavo's words "I gave away my eyes so people would wake up".
The elec­tro­nic com­mu­ni­ty has also mobi­li­sed. The net­la­bel Modis­mo has relea­sed a com­pi­la­tion on the Band­camp plat­form in aid of the hun­dreds of eye inju­ries. These songs sample the noise of the street, allo­wing us to expe­rience the dif­ferent sounds and emo­tio­nal states of the cri­sis, the atmos­phere hea­vy but also combative.
The street, a pri­vi­le­ged stage for artis­tic creation
In poli­tics and the arts, the "people", as an enti­ty uni­ted in revo­lu­tion, have played the lea­ding role. In a move­ment mar­ked by a "bot­tom up" poli­tics, the public space has wel­co­med col­lec­tive and mul­ti­fa­ce­ted artis­tic crea­tion : concerts, spon­ta­neous songs, graf­fi­ti, pos­ters, signs, dance, installations…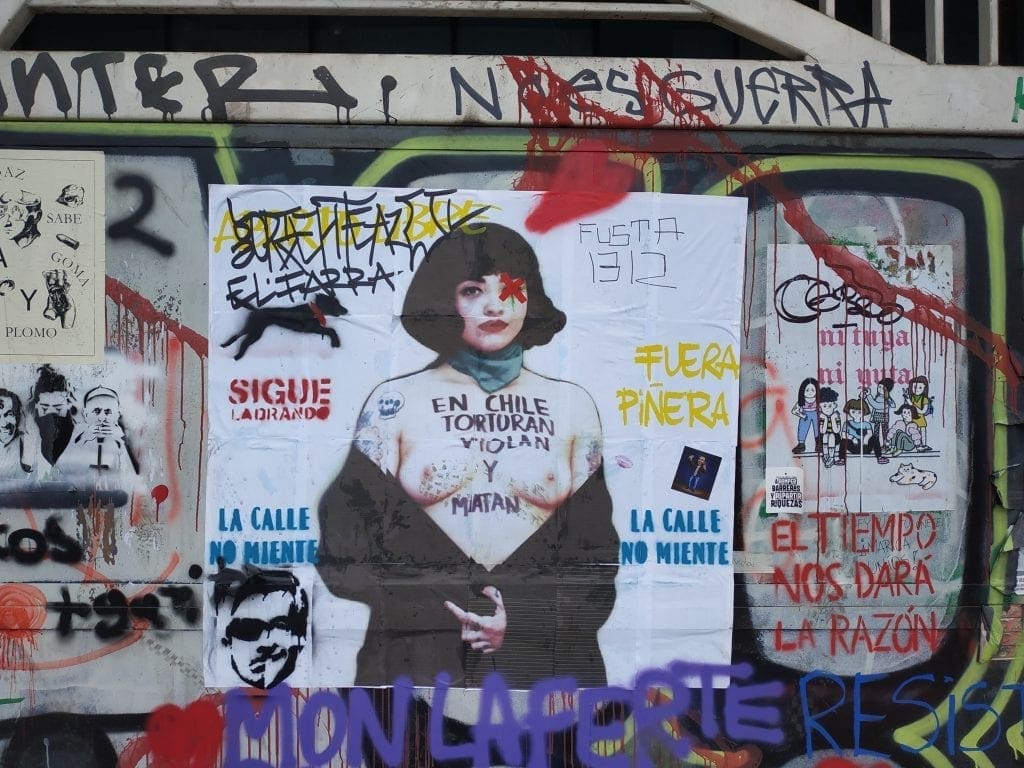 "Nei­ther poli­tics nor culture have mani­fes­ted in a for­mal way : they have played a part, of course, and were expres­sed loud­ly during the demons­tra­tions, but by the voices of indi­vi­duals, without par­ties, without lea­ders, without repre­sen­ta­tives, without spo­kes­people", explains David Ponce. There are plen­ty of examples of concerts for­ma­li­sed by a stage, such as the one per­for­med by Inti-Illi­ma­ni men­tio­ned above, but they did not result in an offi­cial poli­ti­cal inter­ven­tion. As far as Ponce is concer­ned, music is expres­sed first and fore­most as a medium, put­ting the "people" and their free use of this "sha­red and col­lec­tive lan­guage" at the forefront.
While the streets may have been the pri­vi­le­ged are­na of poli­ti­cal and musi­cal expres­sion, one of the most salient examples is the Las Tesis femi­nist col­lec­tive and their per­for­mance of "A Rapist in Your Path". Stri­king lyrics, a hea­dy elec­tro beat, simple cho­reo­gra­phy and blind­folds… In Novem­ber, Las Tesis offe­red a power­ful tool to incite female anger against gen­der vio­lence. In the streets of Chile and inter­na­tio­nal­ly, women have taken pos­ses­sion of the song, trans­la­ted it and adap­ted it to their own needs. This is a power­ful example of how the use of music can create a col­lec­tive, uni­fied in its demands, and extend its reach. A per­for­mance that mar­ked the Chi­lean social awa­ke­ning of 2019 and is sure to ins­pire future move­ments in Chile and beyond.
Tank you to Ana Tijoux and David Ponce for their enligh­te­ning sta­te­ments, to MiNi­MuM ans Gré­goire Bou­quet for their pre­cious help, and to Jea­rim Contre­ras for his proo­frea­ding and advice about translation.