Nar­co­cor­ri­dos (Drug Bal­lads) are per­haps one of the most contro­ver­sial contem­po­ra­ry musi­cal genres. Their appa­rent tra­di­tio­nal sim­pli­ci­ty can easi­ly mis­lead the inge­nuous lis­te­ner unfa­mi­liar with its his­to­ry and the com­plex social rea­li­ties that sur­round it.
Indeed, its detrac­tors label it as mur­der music that roman­ti­cizes nar­co culture, because it cele­brates the deeds of drug lords and pro­motes vio­lence. The fact that musi­cians them­selves have been often clo­se­ly asso­cia­ted with the car­tels and even mur­de­red through car­tel rival­ries, has only contri­bu­ted to increase this stigma.
On the other hand, its lis­te­ners see it as an off­spring of the tra­di­tio­nal Mexi­can cor­ri­do, which has under­gone seve­ral trans­for­ma­tions throu­ghout its his­to­ry until arri­ving at its cur­rent, bru­tal form : Cor­ri­dos alte­ra­dos (Alte­red Cor­ri­dos).
Nar­co­cor­ri­dos tell a harsh unof­fi­cial truth. This music unveils the life of cri­mi­nals and mir­rors the violent rea­li­ty that Mexi­co has suf­fe­red in the past decade, espe­cial­ly after the war on drugs was laun­ched by Pre­sident F. Cal­de­ron in 2006 and the coun­try rea­ched unpre­ce­den­ted levels of violent deaths.
Des­pite mul­tiple attempts to ban this music in various Mexi­can states, nar­co­cor­ri­dos are more popu­lar and radi­cal than ever, with gro­wing audiences both in Mexi­co and in the USA, espe­cial­ly among the Lati­no diaspora.
How is it pos­sible that people enjoy songs that sing of drug lords and vio­lence after the ongoing war on drugs has left, accor­ding to a 2019 USA Congres­sio­nal Research Ser­vice report, more than 150,000 dead in Mexico ?
Between tradition and modernity :
Cor­ri­do music has not been his­to­ri­cal­ly asso­cia­ted exclu­si­ve­ly with drugs and thus also has legi­ti­ma­cy as a tra­di­tio­nal music form. In fact, seve­ral Mexi­can states such as Duran­go and Chi­hua­hua have cor­ri­dos as their un-offi­cial anthems and many Mexi­cans proud­ly endorse them.
The Mexi­can gol­den age of cine­ma (1933–1964) pro­du­ced a large quan­ti­ty of musi­cal films that pro­jec­ted the nation to the world with its tra­di­tio­nal ran­che­ra and cor­ri­do music. Many of these films attemp­ted to arti­cu­late a true natio­nal iden­ti­ty and not only sha­ped how the world saw Mexi­co but also mar­ked the Mexi­can ima­gi­na­ry and how Mexi­cans saw them­selves and their history.
The nar­co­cor­ri­do added new themes such as the life of poor migrants in the USA, with their hard­ships and adven­tures. The life of legen­da­ry sin­ger Cha­li­no San­chez epi­to­mizes this phe­no­me­non. His tra­gic death reso­na­ted with thou­sands of Mexi­cans who iden­ti­fied with him through their sha­red expe­riences of struggle with pover­ty and migra­tion to the USA. He was also the first of many other cor­ri­do sin­gers to be mur­de­red, inclu­ding Valen­tin Eli­zalde in 2006.
Under the guise of the tra­di­tio­nal cor­ri­do form, the nar­co­cor­ri­do repre­sents a hybrid of tra­di­tio­nal folk­lore and moder­ni­ty, rural and urban culture, Mexi­can-Ame­ri­can fron­tier culture and of offi­cial and sub­ver­sive values.
Multiple factors have transformed the Narcocorridos
The Mexi­can war on drugs, the emer­gence of Mexi­can-Ame­ri­can entre­pre­neurs cate­ring to a gro­wing Ame­ri­can audience, along with new digi­tal tech­no­lo­gies and the visual influence of violent music videos such as Gang­sta rap have com­ple­te­ly trans­for­med the nar­co­cor­ri­dos in recent years.
Attempts to cen­sor this music in Mexi­co by ban­ning concerts have fai­led for seve­ral rea­sons. The audience has chan­ged, and Mexi­cans are no lon­ger the only ones lis­te­ning to this music. It's a very orga­ni­zed indus­try that gene­rates mil­lions of dol­lars. For ins­tance, the Movi­mien­to alte­ra­do mer­chan­dizes clothes, films, concerts and clips of the move­ment. Their tours include per­for­mances in seve­ral cities in Mexi­co and the USA with tickets sold by the giant of ticket dis­tri­bu­tion : Ticket master.
Pro­duc­tion, dis­tri­bu­tion, and consump­tion have radi­cal­ly chan­ged in the music indus­try. They are now gene­ra­ted via digi­tal stra­te­gies that the new gene­ra­tions of musi­cians have used effec­ti­ve­ly. A few clicks on You­Tube suf­fice to find a large reper­toire of videos show­ca­sing armed cri­mi­nals with all the ste­reo­types asso­cia­ted with mafio­sos that have "made it".
A case in point is "Los san­gui­na­rios del M1", pos­ted in 2011 and with over 53 mil­lion vie­wers to this date.
The enter­tain­ment indus­try now pro­duces films and series such as Nar­cos : Mexi­co, El Cha­po, and Esco­bar, which have also contri­bu­ted to the popu­la­ri­ty of nar­co culture. They have contri­bu­ted to legi­ti­mize and mains­trea­mize a popu­lar musi­cal niche with more extreme and expli­cit violence.
Nar­co­cor­ri­dos are also part of a broa­der culture and diverse social prac­tices. In Sina­loa for ins­tance, the cult of Jesus Mal­verde, a folk­lore hero from the ear­ly XX cen­tu­ry is wor­shi­ped as a patron saint of drug dea­lers. Malverde's shrine is regu­lar­ly visi­ted by thou­sands and his images are repro­du­ced on all kinds of objects. Nar­co ceme­te­ries such as Jar­dines del Humaya in Culia­can contain some of the most lavish and gla­mo­rous mau­so­leums in the world. These prac­tices reveal the macabre rela­tion to death that haunts most narcocorridos.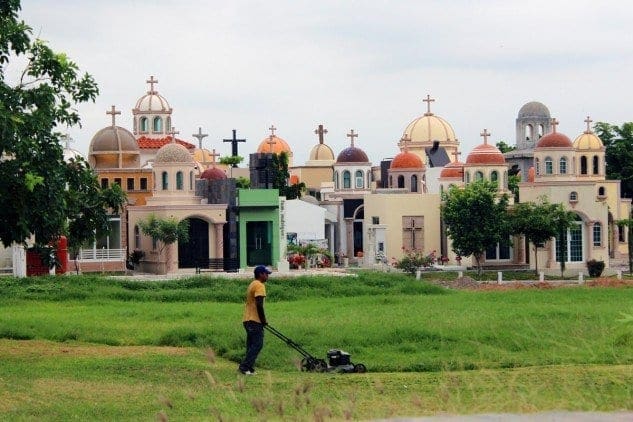 To some, the mix of tra­di­tion and contem­po­ra­ry vio­lence signal attempts by Mexi­can socie­ty to come to terms with the world around them. To others, they are sim­ply a per­ver­sion of a music tra­di­tion. Although inti­ma­te­ly rela­ted, nar­co­cor­ri­dos can't be enti­re­ly bla­med for drug vio­lence. Drug vio­lence is to blame for nar­co­cor­ri­dos. These songs are very popu­lar in Mexi­co but are also a phe­no­me­non found in other drug-rid­den coun­tries in Latin America.
Per­haps unsur­pri­sin­gly, one of the most sho­cking aspects of the nar­co­cor­ri­do, is that it no lon­ger seems to shock anyone. In any case, it consti­tutes a brilliant socio­lo­gi­cal object that allows us to observe the contra­dic­tions of Mexi­can contem­po­ra­ry life and its attempts to make sense of the social ills that roam in the coun­try. But more impor­tant­ly, they force us to take a hard look at the ines­ca­pable vio­lence of Mexi­can reality.
By the same author : « Modern urban trou­ba­dours : Beg­gars or buskers ? »
« Por­traying the city through music »