On Sun­day eve­nings in the bars of Brazzaville's Bacon­go dis­trict, Congo­lese rum­ba and Sape become one. Against the sound­scape of music playing from walls of spea­kers, mem­bers of the infor­mal Socié­té des Ambian­ceurs et de Per­sonnes Éle­gantes [Socie­ty of Ambiance-Makers and Ele­gant People] walk through the crowd with stu­died non­cha­lance, strut­ting as they show off their clothes. Meanw­hile, sin­gers and musi­cians such as Papa Wem­ba – the Kinois (resident of Kin­sha­sa) in furs – have blen­ded rum­ba with Sape. But this link is not new : in the mid-19th cen­tu­ry, imme­dia­te­ly after the return of the Euro­peans, the Congo­lese sei­zed upon and rein­ven­ted the world for­ced on them.
The frock coat, accor­dion and gramophone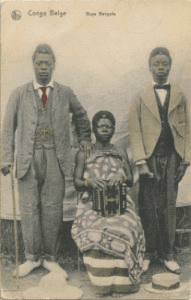 "Bel­gian Congo. – Ban­ga­la Boys", post­card, cir­ca 1905. © Manuel Char­py Pri­vate Collection
Even before colo­ni­sa­tion, the king­doms of Kon­go and Loan­go were connec­ted to the Atlan­tic region through sla­ve­ry, West Afri­ca through trade and Europe through tra­ders and mis­sio­na­ries. But it was not until the 1880s – with the set­ting up of fac­to­ries and colo­nial admi­nis­tra­tions – that pow­der, cop­per, bran­dy and what are still cal­led "trade goods" (fabric, sewing machines, old clothes, accor­dions, gui­tars, etc.) arri­ved in large quan­ti­ties. These "bar­ter goods" were used to take pos­ses­sion of land, ivo­ry and rub­ber. Clo­thing qui­ck­ly became the focus of rela­tion­ships bet­ween colo­ni­sers and the colo­ni­sed. The myth of the "noble savage" over­sha­do­wed the splen­dour of the King­dom of Kon­go in such a way that clo­thing manu­fac­tu­rers saw the Congo as a mar­ket wai­ting to be conque­red[1]. The trade in fabrics and second-hand goods did indeed flou­rish, but mer­chants were sur­pri­sed to dis­co­ver that the "natives" had taste and pre­fer­red clothes made in Paris – some­times orde­red by post – to what they refer­red to as "cheap tat".
Chris­tian mis­sio­na­ries impo­sed Euro­pean clo­thing on them to cover their bodies in a decent man­ner. Stu­dents were dres­sed in uni­forms and "Chris­tian wed­dings" were cele­bra­ted dres­sed in the Euro­pean style. Clo­thing deno­ted the bodies of those who had been conver­ted, like a flag on conque­red land. The "civi­li­sa­tion" of bodies also invol­ved the har­mo­niums and gra­mo­phones that punc­tua­ted Chris­tian life.
As clo­thing and music became poli­ti­cal and social mar­kers, local chiefs got hold of used suits, intro­du­ced the accor­dion into royal music and cove­red their tombs with umbrel­las and hats [2].
From the end of the 19th cen­tu­ry, these "chefs de paco­tille" (tacky chiefs) or "chef d'o­pé­rettes" (ope­ret­ta chiefs) were mocked and "savages" cari­ca­tu­red in frock coats and top hats with bare legs and feet. Sar­casm also focus­sed on the "nasal melo­dy" of the accor­dion and the "caco­pho­ny" of reli­gious and mili­ta­ry fan­fares. For Euro­peans, the natives clum­si­ly "aped" the colonisers.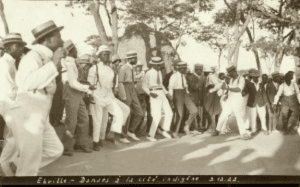 "Danses à la cité indi­gène" [Dances in the indi­ge­nous city], 3 Decem­ber, 1922, pho­to­gra­phed by a set­tler in Eli­sa­be­th­ville (now Lubum­ba­shi, Demo­cra­tic Repu­blic of Congo). © Manuel Char­py Pri­vate Collection
Sides­tep
But from the 1900s onwards doubts began to set in. The colo­nial powers were wor­ried about these defiant­ly ele­gant hou­se­boys, wor­kers and admi­nis­tra­tive employees. White shoes, pana­ma hats or colo­nial hel­mets, waist­coats and pin­ned ties became sub­ver­sive. Were these "negroes" bet­ter dres­sed than the set­tlers ? Refi­ne­ments and melo­dies threa­te­ned to under­mine the hie­rar­chies and foun­da­tions of colo­ni­sa­tion, espe­cial­ly as male bodies were at the centre of the poli­ti­cal game. In neigh­bou­ring Ango­la, car­ni­vals at which people dres­sed up as Por­tu­guese set­tlers were ban­ned. The "natives" also mani­fes­ted their refu­sal to be a colo­nial labour force in this way. In Tin­tin in the Congo (1931), the rea­der can only laugh at the Congo­lese man wea­ring a boa­ter, cuffs and tie, who refuses to work for fear of get­ting dirty.
The police scru­ti­ni­sed these dan­dies, espe­cial­ly as they see­med to have joi­ned forces with the anti-colo­nia­lists, inclu­ding Matsoua's spoof Socié­té de l'É­toile des Savoyards de Braz­za [Socie­ty of the Savoyards Star of Braz­za]. The inves­ti­ga­tors stres­sed "the atti­tude taken by a cer­tain cate­go­ry of natives in their imme­diate rela­tions with Euro­peans : no exter­nal defe­rence to the agents repre­sen­ting autho­ri­ty, and […] a kind of per­pe­tual snee­ring from the wor­kers". There was concern about the influence of anti-colo­nia­list ideas on "this sort of elite […], of which there are many who live lar­ge­ly in Braz­za­ville, imi­ta­ting our ways as clo­se­ly as they can, dres­sing richly if not with ele­gance, [using] the rarest if not the most appro­priate terms". As well as wor­ry about these brains that func­tio­ned like "gra­mo­phone records"[3]. The admi­nis­tra­tions were so ill-at-ease that they tried to pro­mote the most "advan­ced" natives to assist them, ins­til­ling them "good man­ners" when it came to dres­sing and mas­te­ry of the French language.
By the 1920s, this "elite" of admi­nis­tra­tive employees, hou­se­boys and "lite­rate unem­ployed" were orga­ni­sing them­selves in clubs around fashion and music. Encou­ra­ged ini­tial­ly by the admi­nis­tra­tions, they became more com­mon in Braz­za­ville in the 1950s and 60s : the "Exis­tos [Exis­ten­tia­lists]", "Les élé­gants inéga­lables [The incom­pa­rable dan­dies]", "Simple et bien [Simple and good]", "Club des Six [Club of Six]", etc. Each club had its own codes, but eve­ryone would dress in rea­dy-to-wear to dis­tin­guish them­selves from the popu­la­tion dres­sed by local tai­lors. They exchan­ged clothes so they would not have to wear the same thing twice and tal­ked about fashion.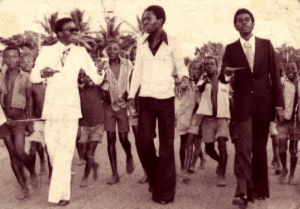 Séve­rin Mouyen­go para­ding in Bacon­go, ear­ly 1970s. © Séve­rin Mouyen­go Pri­vate Archives / Digi­ti­sed by Manuel Charpy
From the 1900s, young people gathe­red in "tam-tams", to use the colo­nial term, to dance to the sound of per­cus­sion ins­tru­ments, accor­dions and gui­tars. In the 1920s, the fashio­nable dance, the agbaya[4], was per­for­med in a circle to show off dan­cers' clo­thing – like the "danse des griffes" [lite­ral­ly, "logo dance"] of today's Sapeurs. But as ear­ly as 1904, the admi­nis­tra­tion ban­ned these gathe­rings except on Satur­days. The segre­ga­tion of Braz­za­ville and Leo­pold­ville into "indi­ge­nous cities" and Euro­pean neigh­bou­rhoods sol­ved the issue by ban­ning the mixing of popu­la­tions in the eve­ning[5]. From then on, fashion and music min­gled in Poto-Poto, Bacon­go and Matonge eve­ry Sunday.
Sim­me­ring under the surface
Des­pite dis­cri­mi­na­tion and cur­fews, both cities tee­med with inter­na­tio­nal influences during the 1920s. Goods would come from all over the world : wax cot­ton from The Nether­lands and Man­ches­ter, rea­dy-made and used clothes from Paris, hel­mets from Mar­seille, shoes from Japan… Tai­lors were known as "Fayettes" because they copied depart­ment store cata­logues, from Gale­ries Lafayette in par­ti­cu­lar, and fashion maga­zines. Paris fashion was "exas­pe­ra­ted" by the dandies.
Dance clubs run by Greeks and Por­tu­guese, at the mar­gins of power, made resi­dents boo­gie, along­side retur­ning infan­try­men, Euro­peans pas­sing through and West Afri­can wor­kers, among others. People would strut in fine dress to the rum­ba. Rum­ba was fin­ding its way back – having been car­ried away by the Kon­go slaves – from the Carib­bean through West Indian sol­diers sta­tio­ned in Braz­za­ville, bands per­for­ming on both banks and records. In the 1930s, it was lis­te­ned to along­side the Char­les­ton at colo­nial fes­ti­vals – street mar­kets, beau­ty pageants, Bas­tille Day cele­bra­tions, races – much to the dis­may of the reli­gious autho­ri­ties[6]. The locals played marin­ga and palm-wine music – ori­gi­nal­ly from Gha­na, remixed with gui­tars brought by West Afri­can wor­kers and, increa­sin­gly, rum­ba. As gra­mo­phones were eve­ryw­here, 78s made this music popu­lar. The dan­dies' sound­track was a mix­ture of tra­di­tio­nal music played with Euro­pean ins­tru­ments, reli­gious choirs and music from the Carib­bean. The Sapeurs made this way of mixing cultures, inclu­ding colo­nial ones, their own. Was there a touch of iro­ny when the "Gal­lo-Roman" club foun­ded in the 1970s announ­ced : "Come and taste Spa­nish rice, Bra­zi­lian "brede", English chi­cken, French cas­sou­let, Dutch ome­lette and Ita­lian spa­ghet­ti. Wes­ton shoes requi­red"? And conti­nued : "For more than 400 years, the Gauls imi­ta­ted the Romans. They got used to their way of living and lear­ned their Latin lan­guage. Gra­dual­ly, you could no lon­ger tell the dif­fe­rence bet­ween them and the inha­bi­tants of Gaul were all cal­led Gal­lo Romans." [7] Mel­ting pots can be subversive.
Down with the suit !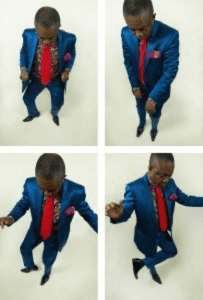 The Logo Dance by Bache­lor © Pho­to Pablo Gran-Mour­cel, Kevin NGom­sik, Manuel Charpy
It should be said that as far as Sape was concer­ned, inde­pen­dence did not herald a gol­den age. The suc­cess of rum­ba came from the fact it was both dan­ced and played by those who were well dres­sed, Roche­reau or T.P. OK. Jazz, for example. But Sape was not as poli­ti­cal­ly mal­leable as rum­ba. Untou­chable in its popu­la­ri­ty, it lived through suc­ces­sive regimes seam­less­ly. In Braz­za­ville, the foun­ding of Radio Braz­za­ville by De Gaulle in 1940 pro­mo­ted its spread. It was­ted no time beco­ming the music of inde­pen­dence then that of eve­ry regime, from N'Goua­bi – of Soviet-Cuban ins­pi­ra­tion -, the com­mu­nist Sas­sou N'Gues­so to Mobu­tu, the herald of "authen­ti­ci­ty". It glo­ri­fied the achie­ve­ments of power just as it did haute cou­ture brands.
On the other hand, Sape was seen as a ser­vile imi­ta­tion of the for­mer colo­ni­sers. In Braz­za­ville, after the fall of dic­ta­tor Dior Ful­bert You­lou in 1963, the new single-par­ty regime led a Chi­nese-style revo­lu­tion. The Youth of the Natio­nal Revo­lu­tion Move­ment came to blows with the Sapeurs, rip­ping their clothes, and they were "reha­bi­li­ta­ted" in the coun­try­side by the regime. On the oppo­site bank of the river, Mobutu's "Zai­rea­ni­sa­tion", laun­ched in 1971, went after the Wes­tern suit, repla­ced by the "aba­cost" (from the French "À bas le cos­tume" [Down with the suit]), a kind of short-slee­ved Mao jacket.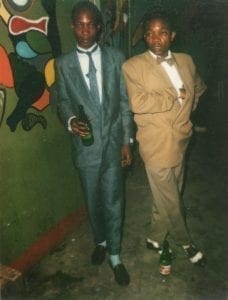 Bache­lor (Joce­lyn Armel) out one eve­ning in Paris, 1970s. © Joce­lyn Armel archives / Digi­ti­sed by Manuel Charpy
While young people in Europe and the Uni­ted States abhor­red the suit and tie, it became a sign of dis­tinc­tion and dissent in both Congos. Sape's migra­tion to Brus­sels and espe­cial­ly Paris, a fashion pil­gri­mage, was the­re­fore unders­tan­dable. But in the eyes of these socie­ties, immi­grants were a work­force that was sup­po­sed to save money and be dis­creet. But Sapeurs lay claim to their refu­sal to be assi­gned to phy­si­cal work through their ele­gance, rejec­ting savings made by wor­kers and making them­selves visible in the public space.
By diges­ting exo­tic cultures, the Congo rein­ven­ted rum­ba and Sape, two long-stan­ding pro­ducts that have nothing to do with sub­cul­tures, in turn expor­ted all over the world.
[1] Des­cri­bed by Charles Lemaire, Au Congo : com­ment les noirs tra­vaillent [In the Congo : how Blacks work], Paris, Bulens, 1895, p. 104.
[2] Alexis-Marie Gochet, Le Congo fran­çais illus­tré : géo­gra­phie, eth­no­gra­phie et voyages [The French Congo Illus­tra­ted : Geo­gra­phy, Eth­no­gra­phy and Tra­vels], Paris, Pro­cure Géné­rale, 1892 and 28 années au Congo : lettres de Mgr Augouard [28 years in the Congo : let­ters from Mgr Augouard], Poi­tiers, Augouard, 1905.
[3] Natio­nal Over­seas Archives, Police Report, Braz­za­ville, 1930.
[4] See the semi­nal book by Phyl­lis Mar­tin, Les loi­sirs et la socié­té à Braz­za­ville pen­dant l'ère colo­niale [Lei­sure and Socie­ty in Braz­za­ville during the Colo­nial Era], Paris, Kar­tha­la, 2006, p. 177 et sq.
[5] See Georges Balan­dier, Socio­lo­gie des Braz­za­villes noires [Socio­lo­gy of Black Braz­za­villes], Paris, Armand Colin, 1955.
[6] L'É­toile de l'AEF, [The Star of the AEF], Decem­ber 1933. This music is des­cri­bed as "blues" by the commentator.
[7] Invite card col­lec­ted by the socio­lo­gist Jus­tin-Daniel Gan­dou­lou ; see his essen­tial inves­ti­ga­tion : Entre Paris et Bacon­go [Bet­ween Paris and Bacon­go], Paris, CCI / Georges Pom­pi­dou Centre, 1984.