While the ques­tion of the envi­ron­men­tal impact of music and the role the indus­try must embrace to make this issue its own is being rai­sed by a gro­wing num­ber of musi­cians, orga­ni­sa­tions and concert venues, a sys­te­mic approach to the pro­blem still seems out of reach. The com­plexi­ty of cer­tain fields, the lack of research and even the mis­con­cep­tions to which they are sub­ject repre­sents an even grea­ter delay to them being taken into consi­de­ra­tion. While the rise in the use of digi­tal media in our pro­fes­sions and the rapid increase in the num­ber of events broad­cast online have been at the heart of the pan­de­mic cri­sis, the unders­tan­ding and cal­cu­la­tion of its envi­ron­men­tal impact remains marginal.
Because it is less visible at first glance than the plas­tic waste that lit­ters fes­ti­val sites, the impact of digi­tal appears not to exist. So, what are we tal­king about exact­ly ? Research shows that the glo­bal digi­tal foot­print is due lar­ge­ly to the manu­fac­ture of equip­ment, with all digi­tal infra­struc­tures being hea­vy consu­mers of raw mate­rials. Your favou­rite band's web­site or pro­file, strea­ming a song or video, this article that you're rea­ding online, your stu­dio recor­dings sto­red on the cloud, they all consume energy.
What's more, the shift towards digi­tal, or "dema­te­ria­li­sa­tion", is often wron­gly per­cei­ved as an action aimed at redu­cing its impact, and recor­ded music as a step for­ward in this dema­te­ria­li­sa­tion – an evo­lu­tion from phy­si­cal disks to invi­sible num­bers. Howe­ver, research car­ried out by the Uni­ver­si­ty of Glas­gow in 2019 sho­wed that the price consu­mers are pre­pa­red to pay for lis­te­ning to recor­ded music has never been lower, while the envi­ron­men­tal impact of lis­te­ning to music has never been higher. In his book Decom­po­sed, Kyle Devine also offers a dif­ferent pers­pec­tive. He shows that recor­ded music has always been a major exploi­ter of natu­ral and human resources and that its depen­dence on these resources is now more pro­ble­ma­tic than ever. He traces the hid­den his­to­ry of recor­ded music, from the 1920s when 78s were made of shel­lac, an insect-based resin, through the expo­sure of wor­kers to toxic fumes and pol­lu­tion cau­sed in the Uni­ted States by the pro­duc­tion of vinyls in the 1970s, to child labour in mines where the rare metals used to make our mobile phones are extracted.
The split bet­ween digi­tal and phy­si­cal dis­tri­bu­tion never­the­less dif­fers accor­ding to musi­cal styles, and the impact of digi­tal is less rapid for musi­cal genres such as jazz or world music, for which some audiences are still atta­ched to the vinyl or CD object, the notion of album more than hit, and where a genuine mar­ket for reis­sues exists.
The impact of strea­ming remains dif­fi­cult to mea­sure as the cri­te­ria and contexts can vary : whe­ther you're strea­ming on a state-of-the-art phone or a recon­di­tio­ned com­pu­ter ; whe­ther you're lis­te­ning to a song at home on your Wi-Fi from a rou­ter you share with your neigh­bours or via 4G on a train ; or whe­ther your elec­tri­ci­ty sources are rene­wable or not, etc. But one thing is cer­tain : sto­ring and pro­ces­sing music online consumes a huge amount of resources and ener­gy. Last year, the IFPI publi­shed a glo­bal music report esti­ma­ting that 77% of users had tur­ned to You­Tube to lis­ten to music in the pre­vious month, while the plat­form is wor­king with major record labels to remas­ter clips in HD, which are very large files and the­re­fore consume more.
The idea becomes clear that the spread of digi­tal allows grea­ter acces­si­bi­li­ty for audiences. Musi­cal heri­tage avai­lable online opens a field of pos­si­bi­li­ties ; col­la­bo­ra­tive pro­jects are emer­ging, such as the fas­ci­na­ting sound­map "Sounds of the Forest" from Tim­ber Fes­ti­val, an open source libra­ry of sounds from the world's forests to which the musi­cians invol­ved in the 2021 edi­tion will respond with their creations.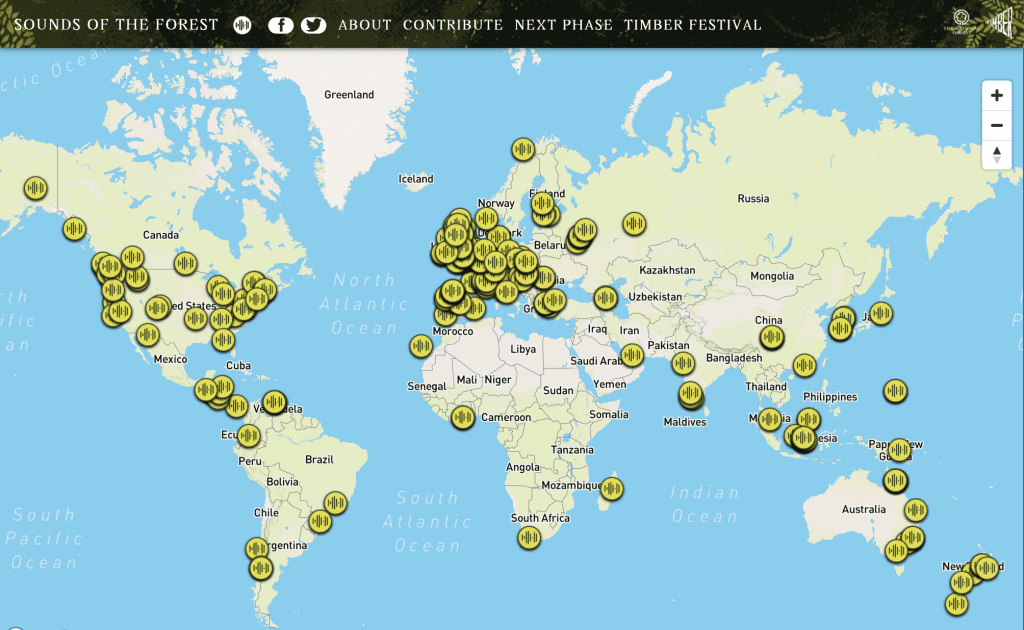 Howe­ver, the annual Digi­tal Report 2020 iden­ti­fies 4.54 bil­lion Inter­net users around the world, but also esti­mates that just over 40% of the popu­la­tion does not have access to the Inter­net, inclu­ding more than one bil­lion living in South Asia and 870 mil­lion across the Afri­can conti­nent. This also fails to take into account the dis­pa­ri­ty in connec­tion qua­li­ty, time zones, etc. that were brought to light during the lockdown.
We recent­ly lear­ned that Womex, world music's annual show­piece event, would be held online. The envi­ron­men­tal bene­fits of an online fes­ti­val com­pa­red to a face-to-face event should not be over­loo­ked, espe­cial­ly when we know that audience tra­vel often repre­sents more than 80% of the total car­bon emis­sions of an event, even more so if its scope is international.
We are also seeing more and more immer­sive expe­riences emerge with VR (Vir­tual Rea­li­ty) music, used by groups to broad­cast their concerts around the world. Howe­ver, in its recent report Shift Pro­ject, a think tank on the decar­bo­ni­sa­tion of the French eco­no­my, reveals that a two-hour VR expe­rience requires an 8K video file (approxi­ma­te­ly 160 gig of data), and esti­mates that the impact of vie­wing in this way is far grea­ter than the car­bon foot­print per spec­ta­tor at an urban venue.
Arti­fi­cial intel­li­gence, vir­tual rea­li­ty, 4K, 8K : the most fashio­nable things are often the most pol­lu­ting. Also to add to that are the expo­nen­tial growth in Inter­net use and the roll-out of 5G (for com­pa­ri­son, the impacts of 4G are around five to 20 times grea­ter than those of a Wi-Fi connection).
The good news about the eco­lo­gi­cal and ethi­cal weight of digi­tal tech­no­lo­gy is that it is pos­sible to do bet­ter, much bet­ter even. What steps can we take to change our recep­tion, pro­duc­tion and dis­tri­bu­tion structures ?
"Deve­lo­ping digi­tal culture also means unders­tan­ding its dark side" is the mis­sion sta­te­ment of the ins­pi­ring Fresque du Numé­rique pro­ject, which crea­ti­ve­ly and col­la­bo­ra­ti­ve­ly addresses the causes and effects of digi­tal tech­no­lo­gy on envi­ron­ments and the cli­mate, high­lights solu­tions for sus­tai­nable digi­tal tech­no­lo­gy and makes it pos­sible to raise awa­re­ness and train teams on these com­plex issues. It pro­vides infor­ma­tion about modi­fying prac­tices, encou­rages change towards more sus­tai­nable consump­tion choices, "digi­tal sobrie­ty" and ser­vices that remu­ne­rate those who make music while redu­cing the envi­ron­men­tal impact.