While the question of the environmental impact of music and the role the industry must embrace to make this issue its own is being raised by a growing number of musicians, organisations and concert venues, a systemic approach to the problem still seems out of reach. The complexity of certain fields, the lack of research and even the misconceptions to which they are subject represents an even greater delay to them being taken into consideration. While the rise in the use of digital media in our professions and the rapid increase in the number of events broadcast online have been at the heart of the pandemic crisis, the understanding and calculation of its environmental impact remains marginal.
Because it is less visible at first glance than the plastic waste that litters festival sites, the impact of digital appears not to exist. So, what are we talking about exactly? Research shows that the global digital footprint is due largely to the manufacture of equipment, with all digital infrastructures being heavy consumers of raw materials. Your favourite band's website or profile, streaming a song or video, this article that you're reading online, your studio recordings stored on the cloud, they all consume energy.
What's more, the shift towards digital, or "dematerialisation", is often wrongly perceived as an action aimed at reducing its impact, and recorded music as a step forward in this dematerialisation – an evolution from physical disks to invisible numbers. However, research carried out by the University of Glasgow in 2019 showed that the price consumers are prepared to pay for listening to recorded music has never been lower, while the environmental impact of listening to music has never been higher. In his book Decomposed, Kyle Devine also offers a different perspective. He shows that recorded music has always been a major exploiter of natural and human resources and that its dependence on these resources is now more problematic than ever. He traces the hidden history of recorded music, from the 1920s when 78s were made of shellac, an insect-based resin, through the exposure of workers to toxic fumes and pollution caused in the United States by the production of vinyls in the 1970s, to child labour in mines where the rare metals used to make our mobile phones are extracted.
The split between digital and physical distribution nevertheless differs according to musical styles, and the impact of digital is less rapid for musical genres such as jazz or world music, for which some audiences are still attached to the vinyl or CD object, the notion of album more than hit, and where a genuine market for reissues exists.
The impact of streaming remains difficult to measure as the criteria and contexts can vary: whether you're streaming on a state-of-the-art phone or a reconditioned computer; whether you're listening to a song at home on your Wi-Fi from a router you share with your neighbours or via 4G on a train; or whether your electricity sources are renewable or not, etc. But one thing is certain: storing and processing music online consumes a huge amount of resources and energy. Last year, the IFPI published a global music report estimating that 77% of users had turned to YouTube to listen to music in the previous month, while the platform is working with major record labels to remaster clips in HD, which are very large files and therefore consume more.
The idea becomes clear that the spread of digital allows greater accessibility for audiences. Musical heritage available online opens a field of possibilities; collaborative projects are emerging, such as the fascinating soundmap "Sounds of the Forest" from Timber Festival, an open source library of sounds from the world's forests to which the musicians involved in the 2021 edition will respond with their creations.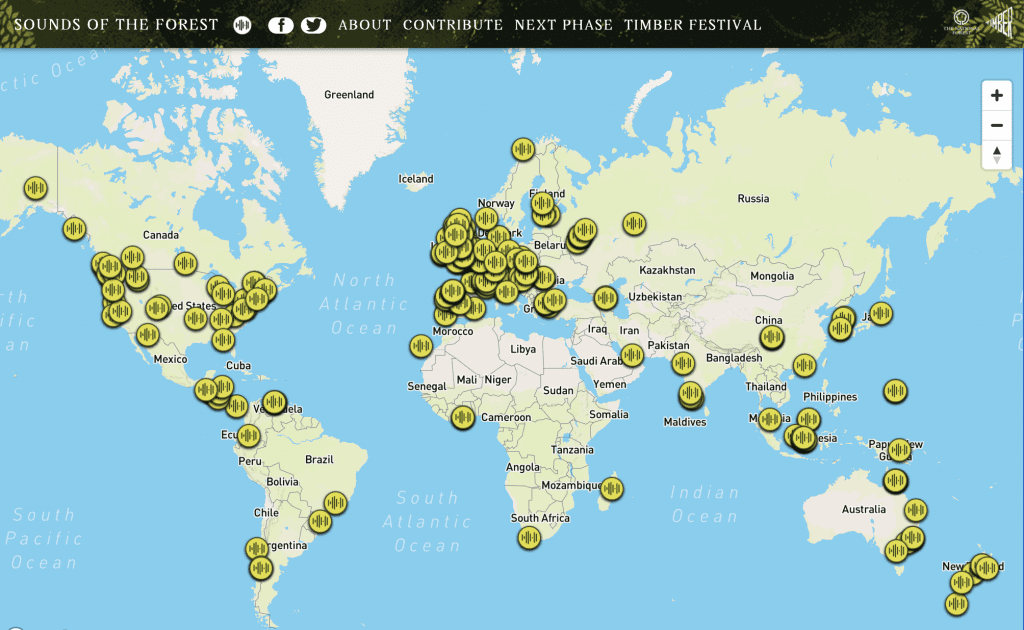 However, the annual Digital Report 2020 identifies 4.54 billion Internet users around the world, but also estimates that just over 40% of the population does not have access to the Internet, including more than one billion living in South Asia and 870 million across the African continent. This also fails to take into account the disparity in connection quality, time zones, etc. that were brought to light during the lockdown.
We recently learned that Womex, world music's annual showpiece event, would be held online. The environmental benefits of an online festival compared to a face-to-face event should not be overlooked, especially when we know that audience travel often represents more than 80% of the total carbon emissions of an event, even more so if its scope is international.
We are also seeing more and more immersive experiences emerge with VR (Virtual Reality) music, used by groups to broadcast their concerts around the world. However, in its recent report Shift Project, a think tank on the decarbonisation of the French economy, reveals that a two-hour VR experience requires an 8K video file (approximately 160 gig of data), and estimates that the impact of viewing in this way is far greater than the carbon footprint per spectator at an urban venue.
Artificial intelligence, virtual reality, 4K, 8K: the most fashionable things are often the most polluting. Also to add to that are the exponential growth in Internet use and the roll-out of 5G (for comparison, the impacts of 4G are around five to 20 times greater than those of a Wi-Fi connection).
The good news about the ecological and ethical weight of digital technology is that it is possible to do better, much better even. What steps can we take to change our reception, production and distribution structures?
"Developing digital culture also means understanding its dark side" is the mission statement of the inspiring Fresque du Numérique project, which creatively and collaboratively addresses the causes and effects of digital technology on environments and the climate, highlights solutions for sustainable digital technology and makes it possible to raise awareness and train teams on these complex issues. It provides information about modifying practices, encourages change towards more sustainable consumption choices, "digital sobriety" and services that remunerate those who make music while reducing the environmental impact.