In 2018, the dri­ving force behind Kas­sav', Jacob Des­va­rieux, put his weight behind the new scene coming out of France's over­seas ter­ri­to­ries by invi­ting their pro­mi­sing talents to the Olym­pia. For this second part of our cycle dedi­ca­ted to the crea­ti­vi­ty of France's islands, we look at the islands of Mayotte and Réunion.
MAYOTTE OR THE BODY MADE TO DANCE, FROM DEBAA TO HIP-HOP
Accor­ding to the anthro­po­lo­gist Damir Ben Ali, "for Como­rians, music is an effec­tive and pres­ti­gious means of communication".
As you tra­vel around the island of Mayotte, the deep roots and constant pre­sence of Sufi devo­tio­nal prac­tices are clear to see. Spi­ri­tua­li­ty, pas­sed on in the Kora­nic schools, is honou­red in many forms : mou­li­da chengue, dakhi­ra and debaa sin­ging, etc. The lat­ter, a female musi­cal-cho­reo­gra­phic genre ori­gi­na­ting from the Rifayi and Qadi­ri reli­gious groups, is a res­pon­so­rial song of praise to the Pro­phet, accom­pa­nied by mini­ma­list, hyp­no­tic dan­cing that consists of sket­ching out move­ments with the upper body using slow and refi­ned ges­tures with the arms – orna­men­ted with jewels – and hands – cove­red in hen­na – which move in uni­son to the beat of the tam­bou­rines in per­fect­ly control­led undu­la­tions that evoke the waves of the ocean. Debaa, a won­der­ful event when eve­ryone gathers in a venue deco­ra­ted for the occa­sion (ban­dra ban­dra) and the arche­type of a matriar­chal socie­ty, has not lost its fer­vour at wed­dings and fes­ti­vals held in Maho­ran vil­lages – unlike other endan­ge­red dances such as wada­ha (the dance of the pestles). Yet it also cir­cu­lates away from the island, both in nor­thern Mada­gas­car and in Europe, where, thanks to its aes­the­tic reach, trans­ge­ne­ra­tio­nal nature and the pro­found res­pect its joy­ful beau­ty ins­pires, it has become the pres­ti­gious pri­vi­lege, a flo­ral and colour­ful syno­nym for its island, like the bright salu­vas in which its female ambas­sa­dors are dressed.
Howe­ver, we are cur­rent­ly wit­nes­sing the gra­dual folk­lo­ri­sa­tion of tra­di­tio­nal Maho­ran dan­cing for poli­ti­cal pur­poses : mbiui dan­cing on the Mayotte stand at the Paris agri­cul­ture trade fair, wel­co­ming tou­rists at the air­port, indi­ge­nous music and ins­tru­ments invol­ved in poli­ti­cal fes­ti­vals and events, for example. This ste­rile spec­ta­cu­la­ri­sa­tion is oppo­sed by heralds com­mit­ted to the mea­ning of tra­di­tion, like musi­cians such as the prea­cher of inter­cul­tu­ra­li­ty Miki­dache, the cus­to­dian of sha­ka­sha (an old slave dance) Colo Man­ga­ra, and the ubi­qui­tous far­mer and player of the gabu­si lute Komo, Mayotte's most fol­lo­wed artist on Facebook.
The god­fa­ther of all these ini­tia­tives is Abou Chi­ha­bi, who foun­ded the only contem­po­ra­ry genre in the 1970s by refer­ring to this tra­di­tio­nal heri­tage : fol­ko­mo­ro­cean. Abou Chi­ha­bi also met Del Zid, Diho and Zama Colo in 2009. Their ambi­tion is to sti­mu­late a new musi­cal move­ment by playing the gabu­si lute and the dzendze zither toge­ther over cele­bra­to­ry mgo­dro rhythms, with ins­tru­ments such as the saxo­phone, flute and elec­tro-acous­tic gui­tar, navi­ga­ting bet­ween blues, folk and rock. Faced with the pres­sing issue of whe­ther Mayotte should become a French dépar­te­ment, contem­po­ra­ry Maho­ran music is also repre­sen­ted by the sub­ver­sive anti-colo­nia­list songs of the poli­ti­cal­ly com­mit­ted gui­ta­rist and poet M'Toro Cha­mou and the poli­ti­ci­sed reg­gae of Baba­di, Bob Dahi­lou and Wuba­ni Spi­rit, who call for insur­rec­tion against the vio­lence of a social and eco­no­mic cri­sis expe­rien­ced by many of their fel­low citi­zens, plun­ging them into disar­ray, alco­hol and drugs.
One thing is cer­tain, music and dance are inse­pa­rable in Mayotte : from debaa to urban dance, via mgo­dro, the spe­ci­fic rhythm of Maho­ran popu­lar music, the body is cal­led upon to take part in the par­ty spi­rit ! To coun­te­ract a fee­ling of hel­pless power­less­ness, the body is in fact again being used on a new and pro­li­fic hip-hop scene in Mayotte, which has become the capi­tal of the genre in the Indian Ocean and is embo­died by Nixo, the new prince of afro-trap, San­go Sy, Garde Impé­rial and Bo Houss.
La Mar­seillaise has become La Mahoraise :
Along these lines, the Evo­lu­tion hip-hop col­lec­tive power­ful­ly unites for­got­ten young people along with Mozam­bique Chan­nel, allo­wing them to express them­selves, to dream. Like a life raft, hip-hop, the pro­test genre par excel­lence, has become a vec­tor for acqui­ring pro­fes­sio­nal skills (even to the extent of the 2016 vic­to­ry in one of France's main natio­nal break­dance com­pe­ti­tions : Bat­tle of The Year in Mont­pel­lier) and a means of eman­ci­pa­tion for a new life out­side the vicious circle of vio­lence and misery.
RESILIENCE IN TRANCE : THE ERUPTION OF ELECTRO-MALOYA IN RÉUNION
On Réunion, new musi­cal trends are redra­wing the musi­cal map of the island, like the post-hard­core garage noise trio Pam­ple­mousse or the mys­ti­cal rock-afro-blues of Tap­kal, fron­ted by Anan­da Devi Peters, daugh­ter of the ico­nic poet and stel­lar wan­de­rer Alan Peters.
But Réunion remains unfai­lin­gly asso­cia­ted with maloya, an aggres­sive ter­na­ry blues, inhe­ri­ted from Mala­ga­sy and Afri­can slaves and on UNESCO's Intan­gible Cultu­ral Heri­tage list since 2009. Maloya still has a sense of adven­ture, howe­ver, and has been enri­ched by the blen­ded col­la­bo­ra­tions of its roving artists, such as the famous group Lin­di­go. Led all over the world by the cha­ris­ma­tic Oli­vier Araste, from South Afri­ca (and the elec­tro-tro­pi­cal sounds of Skip & Die) to Ango­la (with the queen of kudu­ro Pon­go), via Cuba (and the rum­ba of Los Mune­qui­tos de Matan­zas), the group creates a noma­dic maloya, but one still roo­ted in the tra­di­tion of ser­vis kaba­ré, cere­mo­nies in homage to ances­tors, once held in secret.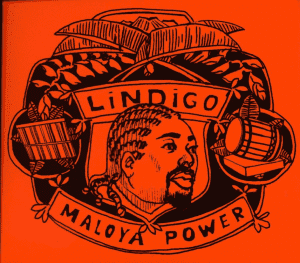 Réunion is pro­ving to be an island condu­cive to the dis­co­ve­ry of musi­cal other­ness, to crea­tions that bring with them the colours of Créole, such as Rou­gai­verde, a pro­ject envi­sa­ged by Eli­da Alme­dia from Cape Verde and Tiloun from Réunion itself. Two types of island music, two rhythms inven­ted and dan­ced by slaves in oppo­si­tion to the same colo­nial yoke.
But even before see­king ins­pi­ra­tion in other lands, maloya rene­wed itself from within by asso­cia­ting itself with the island's long his­to­ry of elec­tro­nic music. Zong were the first group from Réunion to use machines to create a local blend, fol­lo­wed by Jako Maron, ano­ther acti­vist from the ear­ly days of elec­tro­nic music on the island who chose to sample the voice of Danyel Waro and mix it with a tech­no beat imi­ta­ting the swaying of the kayamb. The Fes­ti­val les Elec­tro­pi­cales was foun­ded in 2009 and now acts as a ral­lying point and mou­th­piece for the new Réunion scene.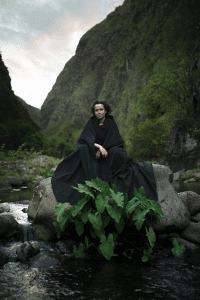 From Maya Kama­ty, daugh­ter of Gil­bert Pou­nia, to Car­lo de Sac­co, front­man for Grèn Sémé, from Labelle's cap­ti­va­ting remixes (Natha­lie Natiembe, Bachar Mar-Kha­li­fé…) to those of Do Moon, the list of those expe­ri­men­ting with evol­ving elec­tro­nic maloya sui­table for trance keeps get­ting longer.
Poli­ti­cal rock poe­try rubs shoul­ders with dub beats, tech­no house floo­ded with trap and sha­ma­nic music in a dream­like jour­ney with unex­pec­ted offshoots.
A recent pro­ject : Jean-Didier Hoareau's Trans Kabar also work on an elec­tro-rock rea­ding of Réunion's mys­ti­cal rites car­ried out with "fonn­kèr", an ener­gy that lends itself to trance.
Although the grea­test voices of maloya have tra­di­tio­nal­ly been male – Gran­moun Lélé, Fir­min Viry and Danyel Waro – a new gene­ra­tion of eman­ci­pa­ted and unbrid­led women are begin­ning to speak the uns­pea­kable and break island taboos. Maloya has become a com­pa­nion to an intros­pec­tive, nar­ra­tive music which, to awa­ken consciences, finds its cathar­tic signi­fi­cance by addres­sing both mind and body.
Kaloune is one of these : accom­pa­nied by her mbi­ra, she moves bet­ween prayer, decla­ma­tion and sin­ging, construc­ting a new Réunio­nese lan­guage and inven­ting a contem­po­ra­ry form of ora­li­ty that is both freeing and vigo­rous­ly feminist.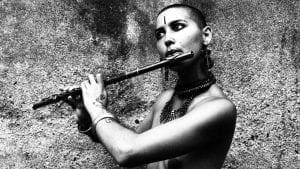 "Turn the memo­ry of its ashes to the burn, make screa­ming tear itself apart and insist silences speak", this is the cre­do of ano­ther visio­na­ry artist, Ann O'aro. Her poe­tic parables in Creole – the car­nal lan­guage of what is for­bid­den – serve up a strip­ped, vis­ce­ral blues against a back­drop of maloya. The theme is incest, per­pe­tra­ted by her father, a violent pri­son war­der who com­mit­ted sui­cide when she was 15. It is by sin­king into her memo­ry – using music as an out­let – that she manages to evoke a post-trau­ma­tic huma­nism. Her voice is both asser­tive and crad­ling, anger erupts ; the body, in all its states, conjures up her demons and revi­sits the mad­ness of sava­ge­ry in a mani­fes­to of inti­ma­cy, spi­ral­ling and wan­de­ring after the outrage of a dese­cra­ted child­hood and a plun­de­red body.
There is only one key­word : resi­lience, vehe­ment­ly and without concession !