For Indians, music goes back to the very ori­gin of the world. Over the cen­tu­ries, it has deve­lo­ped a strong iden­ti­ty that has allo­wed it to wel­come count­less forei­gn influences without losing any­thing of its remar­kable essence.
In Indian mytho­lo­gy, the "aum" sound vibra­tion is said to have pre­ce­ded life itself and given rise to the gods. The Hin­du pan­theon is filled with musi­cians : to the beat of a drum, Shi­va brings the uni­verse to life with his dance ; Saras­wa­ti, daugh­ter and wife of Brah­ma and god­dess of artists, plays the vee­na, the ances­tor of Indian chor­do­phones ; Kri­sh­na, a human ava­tar of Vish­nu, seduces the fai­th­ful and young women with the sound of his flute. "Nada Brah­ma", the sound is divine and the music has a sacred essence.
The first music iden­ti­fied in India came in the form of devo­tio­nal songs that appea­red in the sacred Veda texts bet­ween 1500 and 800 BCE.
Many popu­lar forms of sin­ging, in which the mys­ti­cal dimen­sion was often present, sub­se­quent­ly deve­lo­ped and a sophis­ti­ca­ted musi­cal sys­tem was put in place.
Jas­raj Mee­ra Bhajan
Clas­si­cal music – Hin­dus­ta­ni in the north and Car­na­tic in the south – is mono­dic music that uses nei­ther chords nor over­lap­ping notes, but takes advan­tage of the inter­vals bet­ween two tones. They share a com­mon ancient foun­da­tion based on the use of a sound halo obtai­ned by drone ins­tru­ments and the raga prin­ciple. A raga is a fra­me­work through which the musi­cian can express them­selves while res­pec­ting pre­cise notes, inten­tions and directions.
What sepa­rates these two forms of music are the contri­bu­tions pro­vi­ded by the Mus­lim civi­li­sa­tion through Arab, Tur­kish and Per­sian conquests in the north of the coun­try. During the per­iod of the Mughal Empire (1527–1707), North India expe­rien­ced a cultu­ral and artis­tic gol­den age. New sources of ins­pi­ra­tion and ins­tru­ments appea­red, such as the tabla, pakha­vaj, sarod and sitar.
In the 19th cen­tu­ry, Euro­pean colo­ni­sa­tion, by the Bri­tish in par­ti­cu­lar, intro­du­ced new ins­tru­ments to the Indian musi­cal land­scape. Brass bands were for­med in a num­ber of regions, the vio­lin found its place in Car­na­tic music and the har­mo­nium was adop­ted to sup­port forms of devo­tio­nal song, such as Qaw­wa­li and Bha­jan. In 1940, the Hawaiian musi­cian Tau Moe intro­du­ced the slide gui­tar into North India, where some soloists chose it as an instrument.
Deba­shish Bhat­ta­cha­rya (slide guitar)
Indian music also began to be expor­ted to the West, where it came toge­ther with musi­cal styles per­for­med there and attrac­ted a great many forei­gn artists.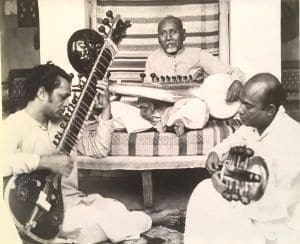 In the 1930s, before fol­lo­wing a tra­di­tio­nal edu­ca­tion with his guru, the influen­tial sarod-player Allaud­din Khan, Ravi Shan­kar was a mem­ber of his bro­ther Uday's dance troupe. Des­pite being only about ten years old, he dan­ced, played various ins­tru­ments and tra­vel­led the world. He dis­co­ve­red the great clas­si­cal per­for­mers in Europe and jazz pio­neers in the Uni­ted States.
Ravi Shan­kar and Yehu­di Menuhin
In the 1960s, he made friends with the clas­si­cal vio­li­nist Yehu­di Menu­hin, with whom he col­la­bo­ra­ted throu­ghout their lives. In late 1964, Shan­kar met John Col­trane, to whom he pas­sed on some keys to the sys­tem of Hin­dus­ta­ni music. Thanks to his friend­ship with The Beatles' George Har­ri­son, Shan­kar increa­sed his audience and dab­bled in the world of pop music. He played at Mon­te­rey (1967) and Wood­stock (1969) and ins­pi­red Har­ri­son to orga­nise a cha­ri­ty concert for Ban­gla­desh in 1972.
Ravi Shan­kar at Mon­te­rey Pop (67) with Alla Rakha (tablas)
Throu­ghout his career, Shan­kar played Hin­dus­ta­ni music and expe­ri­men­ted with other forms. He wrote sym­pho­nies and concer­tos for the sitar and orches­tra. In 1987, on the album Tana Mana, he used elec­tro­nic ins­tru­ments with Har­ri­son and Peter Bau­mann (Tan­ge­rine Dream). The fol­lo­wing year he recor­ded with Rus­sian musi­cians (Inside the Krem­lin) and, in 1989, cemen­ted his rela­tion­ship with the mini­ma­list com­po­ser Phi­lip Glass (Pas­sages).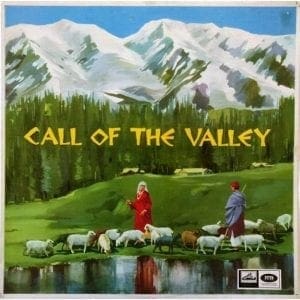 Of course, Ravi Shan­kar was not the only Indian musi­cian to link East and West. In the 1950s, Bol­ly­wood com­po­sers began to adopt the new musi­cal trends of the world to be used in musi­cals. In 1967, the san­toor-player Shiv Kumar Shar­ma, the gui­ta­rist Brij Bhu­shan Kabra and the flau­tist Hari­pra­sad Chau­ra­sia crea­ted The Call of the Val­ley, the first Indian concept album about a day in the life of a she­pherd. In 1968, the tabla-player Alla Rakha, a frequent accom­pa­nist of Shan­kar and father of Zakir Hus­sain, recor­ded with the jazz drum­mer Bud­die Rich.
Remem­ber Shak­ti (Shiv Kumar Shar­ma (san­tour), John McLaugh­lin (gui­tar), Zakir Hus­sain( tabla), V.Selvaganesh (drums)
In 1974, the English gui­ta­rist John McLaugh­lin foun­ded the group Shak­ti with a num­ber of Indian virtuosos.
Tal­vin Singh
In the 1990s, in contact with the Bri­tish rock, hip-hop and elec­tro scenes, musi­cians from the sub-continent's dia­spo­ras for­med the Asian Under­ground move­ment, in which Tal­vin Singh, Nitin Sawh­ney and Fun­Da­Men­tal were key figures.
Mal­kit Singh « Mida Touch » Bhangra
By adop­ting ele­ments of Wes­tern dan­ce­floor music, Pun­ja­bi musi­cians in Lon­don rein­ven­ted bhan­gra, a dance and music that tra­di­tio­nal­ly accom­pa­nied har­vest fes­ti­vals, before adop­ting these new stan­dards on their own soil. Tra­di­tio­nal musi­cians were also ins­pi­red by tech­niques from the West, such as the Bar­mer Boys of Rajas­than, who added vocal beat­box parts to their sin­ging, which were remixed by elec­tro DJs such as Rava­na from New Delhi.
Anou­sh­ka Shan­kar & Pepe Habi­chue­la (Tra­vel­ler)
Ravi Shan­kar trai­ned many musi­cians, inclu­ding his daugh­ter, the sita­rist Anou­sh­ka Shan­kar, the heir to her father's reper­toire. As a com­po­ser, she fol­lows a per­so­nal path in which East and West form a dia­logue. She also col­la­bo­rates with her half-sis­ter Norah Jones, Karsh Kale and Nitin Sawh­ney. In 2011, Tra­vel­ler was a magni­ficent explo­ra­tion of the mee­ting points bet­ween India and flamenco.
Gha­zal (Shu­jaat Hus­sain Khan & Kayan Kahlor
Ravi Shan­kar may have been the most famous sitar-player in the world, but in his home coun­try many enthu­siasts held his rival Vil­layat Khan in higher esteem. This incre­dible sitar-player remai­ned loyal to Hin­dus­ta­ni music until his death in 2004, but his son Shu­jaat, a gif­ted sita­rist, boasts an extre­me­ly modern sound. He foun­ded the duo Gha­zal with the Ira­nian kaman­cheh-player Kayan Kay­lor (Gha­zal), car­ried out a remar­kable fusion with music from South India and West Afri­ca in the Strings Tra­di­tion pro­ject, and has col­la­bo­ra­ted with Ame­ri­can jazz musicians.
This his­to­ry is, of course, incom­plete but, most impor­tant­ly, also far from coming to an end or cea­sing to sur­prise us.