A panoramic perspective of urban music troubadours, the role they play in public spaces and some lessons we can learn from them.
In 2007, an experiment took place inside a metro station in Washington D.C where, Joshua Bell, a world-renowned violinist, performed incognito for almost 1 hr. Over a thousand persons passed by but only a few stopped to listen and one recognized him. He made 32 dollars.
What does this performance tell us about the way that we as audiences relate to music in public spaces and our ability to perceive beauty in the midst of urban chaos? If Joshua Bell can be ignored, does an unknown street performer stand a chance to be really noticed? The anonymity of the modern metropolis coupled with the ubiquity of muzak and the increasing noise pollution in our cities is such that some people might even wonder whether street musicians contribute more to the cacophony of the city than anything else.
However, if we listen carefully, perhaps street musicians can teach us a few lessons. As modern urban troubadours, they bring surprising musical encounters into the daily life of commuters and ordinary citizens to create musical moments in unexpected places.
Through the temporary appropriation of public spaces, they bring life to our streets and contribute to shape the identities of neighbourhoods. Many urban public spaces are as renowned for their spatial qualities as for their cultural and musical atmosphere. Grafton Street in Dublin, Washington Square in New York, Royal Street in New Orleans and many more, are in fact open air cultural forums. Jazz, Chicago Blues, Hip Hop, Klezmer and Gypsy music, to name but a few examples, are played now all over the globe but they were born in the streets and are the living product of intercultural exchange among different communities.
Plaza Garibaldi, the Mecca of Mariachi music in Mexico City.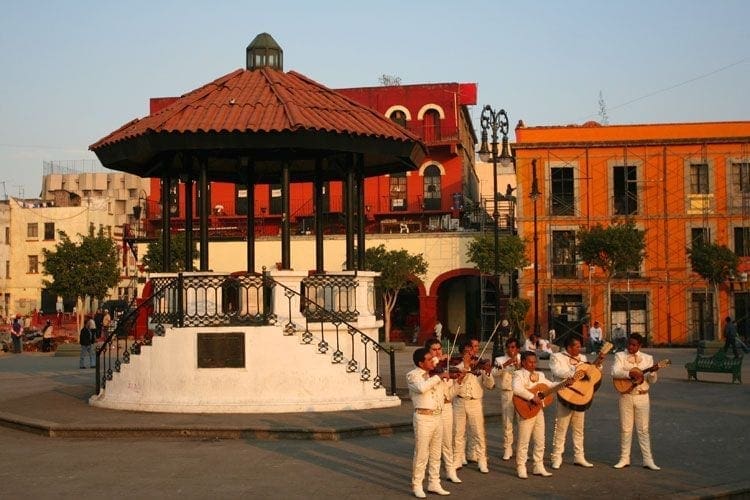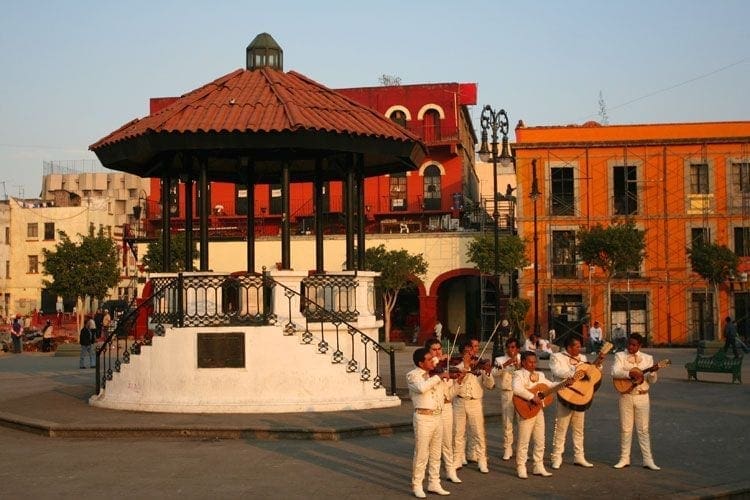 Our streets constitute unique crossroads of musical paths. For some musicians, such as Valentina Morales, a classical cello player who performs in downtown Mexico City, street performances represent not only the opportunity to bring her craft to larger audiences who wouldn't otherwise have the means to experience a classical music concert. Her performances attempt to raise a conversation about classical music's accessibility towards different class backgrounds and the status of musicians, and also the chance to advocate for regulation and recognition of street musicians.
For others, music busking represents a first step in their music career. Rodrigo y Gabriela, a celebrated Mexican guitar duo, left their home country after years of limited success and started from scratch, performing in the streets of Dublin in the late 90s before reaching global stardom. Their story is incredible, but not the only one. In fact, the list of famous musicians who started as street performers is long and includes the likes of Edith Piaf, Janis Joplin, Rod Stewart, Tracy Chapman and more recently Ed Sheeran, who used to perform in the London tube. Sometimes even the opposite and most unexpected happens: music celebrities go to the street and deliver surprise performances to unsuspecting audiences.
Surprising audiences is also a key aspect of Music flash mobs. They constitute a recent and different type of street performance that has become increasingly popular since the early 2000's, although they are often organized around political, activist or marketing purposes and widely promoted on social media to maximize impact and notoriety.
International Busking
Since 2011, International Busking day as a hashtag campaign is organized to help raise the profile of street performance and celebrate talent. It is also increasingly visible via internet busker community platforms and as an international phenomenon with several festivals such as Linz and Ferrara in Europe, that have existed for over 30 years. These festivals strive to maintain the spirit of busking, underlining the interaction of musician and audience and offering opportunities for new talents.
We should not forget, that what truly characterizes street performance, is the unique setting, the spontaneity and interaction between performer and audience. Unlike in conventional concerts, the audience is free to stay or leave at any moment, to show their appreciation as they like or to pass along. When a musician captures the attention of passers-by and convinces them to interrupt their journey and remain even for a few minutes, he/she is creating a special moment out of nothing. Little by little, almost organically a crowd gathers and sometimes a real sense of togetherness is achieved among complete strangers. That's both, the beauty and the simplicity of it. And when people pay for it, they make it possible for the music to continue for future audiences. Buskers aren't beggars.
There is no substitute for traveling the world and exploring the music on its streets but fortunately street musicians are bringing world music closer to us. There are several interesting initiatives that allow us to travel virtually such as worldstreetmusic​.com and Playing for change, a movement devoted to inspire and connect the world through music which set out to record street musicians in different countries and resulted in the award-winning documentary A Cinematic Discovery of Street Music.
Perhaps the recent performances from balconies and roofs in several cities across the world during the COVID-19 crisis are a reminder of the need to express ourselves through music and of the importance of live music connecting people despite isolation and confinement. By bringing culture and life to the streets, they are de facto grass root actors of world music and an integral part of the music eco-system of cities. Cultural pollinators, they often travel the world and not only bring their music with them but also embody a philosophy of exchange, freedom and diversity.
Street music is part of an ongoing story and quite likely it's in the streets of today where the urban music of tomorrow is being created.
By the same author : « For a new awareness of music listening »
« Narcocorridos : A musical tradition perverted by violence ? »
« Portraying the city through music »