Dis­pa­ri­ty is hard to ignore when it comes to geo­gra­phy, sta­tus, culture and lan­guage in France's over­seas ter­ri­to­ries. But this diver­si­ty is at odds with the first para­graph of Article 2 of the French consti­tu­tion : "The lan­guage of the Repu­blic shall be French".
Seven­ty-five offi­cial lan­guages are spo­ken in France's over­seas ter­ri­to­ries, of which just over fif­ty are consi­de­red "lan­guages of France" by the Gene­ral Dele­ga­tion for the French Lan­guage and the Lan­guages of France (DGLFLF), a unit of the Minis­try of Culture and Communication.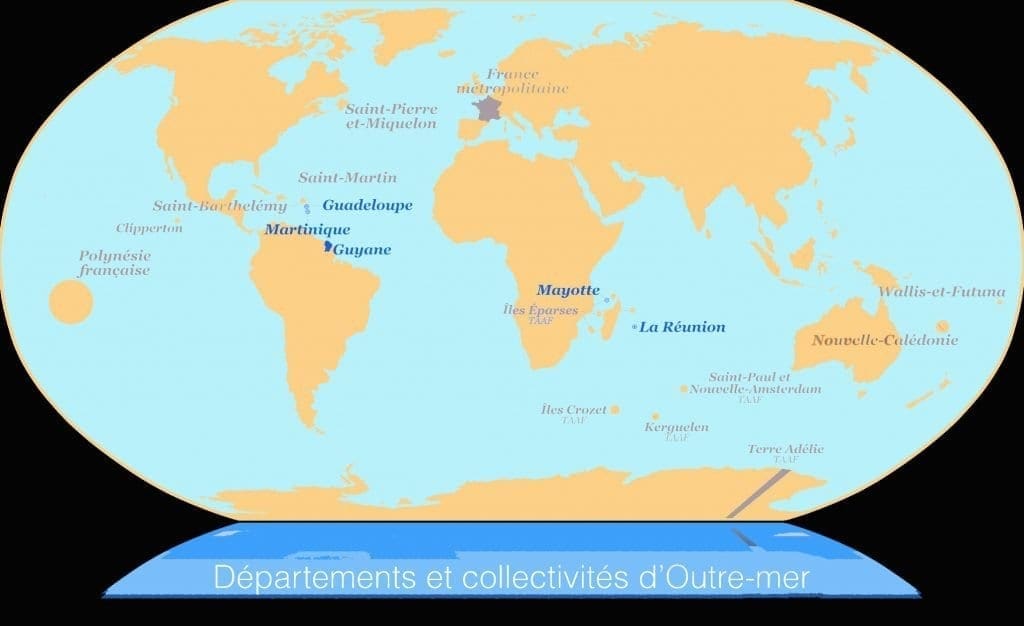 Each of the major over­seas dépar­te­ments, Gua­de­loupe (pop. ± 390,000), Mar­ti­nique (pop. ± 370,000) and Réunion (pop. ± 850,000) has its own Creole. In Mayotte (pop. ± 260,000), two lan­guages are spo­ken, Shi­maore and Kibu­shi. The same is true of Wal­lis and Futu­na (pop. ± 11,500), where Wal­li­sian and Futu­nan are spo­ken. Things get more com­pli­ca­ted in French Poly­ne­sia (pop. ± 280,000), with Mar­que­san, the lan­guage of the Tua­mo­tu, Man­ga­re­va and the lan­guages of the Aus­tral Islands. The mul­ti­lin­gua­lism inten­si­fies in Guya­na (pop. ± 270,000 h), with no fewer than twelve lan­guages of France : Guya­nese Creole, Sara­ma­ka, Alu­ku, Ndyu­ka, Para­ma­ka, Kali­na, Waya­na, Pali­kur, Ara­wak, Wayam­pi, Teko and Hmong. And we reach new heights in New Cale­do­nia (pop. ± 270,000), where the Kanak speak twen­ty-eight lan­guages : Nyâ­layu, Kumak, Caac, Yua­ga, Jawe, Nemi, Fwâi, Pije, Pwaa­mei, Pwapwâ, Voh-Koné lan­guages, Cèmu­hî, Pai­cî, Ajië, Arhâ, Arhö, 'ôrôê, Neku, Sîchë, Tîrî, Xârâcùù, Xârâ­gu­rè, Dru­bea, Numèè, Nen­gone, Dre­hu, Iaai and Fagauvea.
Fought on many fronts and gene­ral­ly misun­ders­tood by the domi­nant socie­ties until the mid-20th cen­tu­ry, these lan­guages owe their sur­vi­val only to the mobi­li­sa­tion of popu­la­tions deter­mi­ned to safe­guard their res­pec­tive cultu­ral iden­ti­ties Among the methods employed in this struggle, song, music and dance have pro­ved to be par­ti­cu­lar­ly effec­tive tools. Encou­ra­ged by the mass deco­lo­ni­sa­tion of 1960, iden­ti­ty resis­tance move­ments stir­red the three large Creole-spea­king islands that became dépar­te­ments in 1946. Their claims were expres­sed through folk arts in par­ti­cu­lar, which had the gift of repul­sing the domi­nant local mino­ri­ties, sub­jec­ted to metro­po­li­tan acculturation.
In Gua­de­loupe, the gwo­ka was mocked, seen as "mizik a vié neg", the equi­va­lent of "savage music". In Mar­ti­nique, the bèlè was bani­shed almost enti­re­ly from the public space. In Réunion, the rhythm, dance and song of the maloya were prac­ti­sed in secret in the socie­ty of "Cafres" (Blacks). It was played during "ser­vis kaba­ré", eve­ning fes­ti­vals, fune­ra­ry vigils adap­ted from sacred Mala­ga­sy rituals cele­bra­ting ances­tors. The trance phe­no­me­na that some­times resul­ted from these drum dances dis­gus­ted the elites. So, it was in hiding that the cultu­ral iden­ti­ties spe­ci­fic to Réunion, Gua­de­loupe and Mar­ti­nique were reborn. And when the revo­lu­tio­na­ry wave of May 1968 rea­ched France's over­seas ter­ri­to­ries, the demands became more political.
Ser­vis kaba­ré – Fir­min Viry – Gran­moun Sel­lo – Danyèl Waro
In the 1970s, the stra­te­gy of the Com­mu­nist Par­ty of Réunion (PCR) consis­ted of reha­bi­li­ta­ting the tra­di­tio­nal maloya, which then came out of fami­ly and ritual set­tings to become a sub­ver­sive cata­lyst, appea­ring on stage at muni­ci­pal fes­ti­vals. It was there that Danyèl Waro had his ini­tia­tion, along­side his tea­cher Fir­min Viry. In Gua­de­loupe, auto­no­mist move­ments did not think twice about using plas­tic explo­sives in 1980 to sup­port their demands. It was also this per­iod that saw the explo­sion of Kassav's zouk, the flag bea­rer for the lin­guis­tic and cultu­ral dyna­mism of the French Antilles, rea­dy to conquer the world. The indi­vi­dual iden­ti­ties of the archi­pe­la­gos are expres­sed less in the 21st cen­tu­ry by vio­lence than by the mass invol­ve­ment of the Antilles' inha­bi­tants. In 2014, the gwo­ka was added to UNESCO's list of intan­gible cultu­ral heri­tage (ICH), where it joi­ned Réunion's maloya, added in 2010.
Kas­sav – Zouk La Sé Sèl Médi­ka­man Nou Ni – Kas­sav Live
The his­to­ry of Paci­fic cultures dif­fers from that of the Antilles and the Indian Ocean, where non-native popu­la­tions were brought toge­ther, often as the result of sla­ve­ry. At the time of its later colo­ni­sa­tion, Ocea­nia had been inha­bi­ted for seve­ral mil­len­nia by indi­ge­nous people. This was orches­tra­ted by Angli­can pas­tors who evan­ge­li­sed hand over fist, hence the influence of hymns in the vocal forms that sur­vive to the present day. As with Native Ame­ri­cans, impor­ted diseases cause devas­ta­tion : 80% of the Kanak popu­la­tion had disap­pea­red from New Cale­do­nia by the end of the 19th century.
Te Ava Piti – E He'e Te Va'a
Kanak culture and lan­guages owe their rebirth to the upri­sing of sepa­ra­tists. From 1984 to 1988, they suc­cee­ded in making an inde­pendent Kana­ky, with its own govern­ment, a rea­li­ty. It was a dif­fi­cult struggle that ended in the mas­sacre on Ouvéa, but led to the recog­ni­tion of a people that had been oppres­sed for 135 years. It was the work of a man of culture, Jean-Marie Tji­baou, who paid for it with his life. In each Kanak clan that had its own music and dance, this unpa­ral­le­led lea­der had convin­ced the elders to allow the young to take hold of the clans' heri­tage to create modern music : kane­ka. Since then, radio sta­tions and K7 would get people dan­cing to almost for­got­ten languages.
Cele­nod – Wah­nah­na­da Externas
Eve­ryw­here in the over­seas ter­ri­to­ries, the trend is now towards "balan­ced mul­ti­lin­gua­lism". The state and com­mu­ni­ties alike imple­ment poli­cies aimed at sup­por­ting local lan­guages and cultures. Zouk, gwo­ka, bèlè, maloya and kane­ka have revea­led hither­to lit­tle-known cultu­ral iden­ti­ties to the ears of the world. Soon, advan­ced forms of Mayotte's m'godro and Guyana's alé­ké will emerge. A diver­si­ty of styles and lan­guages capable, let's hope, of kee­ping the fran­tic glo­ba­li­sa­tion of a pseu­do-culture that has a ten­den­cy to stan­dar­dise art as well as thought at bay.
M'To­ro Cha­mou – M'Go­dro Rebel